ABOUT US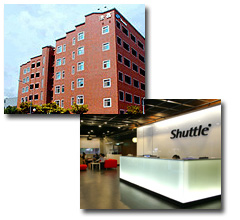 Established in 1983 Shuttle Inc. (Headquarter) is based in Taiwan with an extensive worldwide network of subsidiaries, resellers, partners and suppliers. Shuttle Inc. is recognized as an industry leading designer and manufacturer of small form factor (SFF) computers and accessories.
Shuttle produced the first commercially-successful small form factor (SFF) computer and continues to develop the segment with its platform defining XPC product lines. Shuttle Inc. has received numerous awards and accolades from independent media and analysts, affirming the superior quality of Shuttle products and services.
Keeping "We Create" in mind, Shuttle steps into the notebook ODM business in 2010 by creating the New Notebook Ecosystem based on a standardized motherboard. In 2011, Shuttle launches Build-to-Request(BTR) solution.
CORPORATE MISSION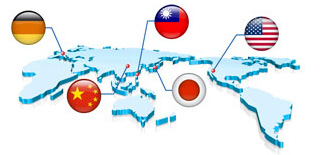 Shuttle is dedicated to the creation of innovative solutions to meet our customers' needs. The dedicated staff at Shuttle work meticulously to design, analyze and produce industry-leading solutions for people in all walks of life. Shuttle is a multi-national company with a strong commitment to customer service. Regional sales offices are located in Taiwan, United States, Germany, China and Japan. Localized sales districts plus reliable after sales service and prompt technical support have enabled Shuttle to maintain an efficient distribution network and a strong relationship with its customers including system integrators, VARs, OEMs and ODMs.
In order to ensure round-the-clock service & support, Shuttle is accessible by e-mail, website and telephone. Shuttle's website provides product guides, technical support, media releases and links to its regional sales offices and worldwide distributors. The sales and support staff at Shuttle are always on hand and are committed to providing the best possible service.
Shuttle places a strong commitment on partnership and mutual teamwork with its worldwide network of partners. Our global partners are leaders in their field and working together with Shuttle customers can be served more efficiently. Shuttle remains firmly committed to delivering exceptional quality, optimum performance and sensational value products.
RESEARCH & DEVELOPMENT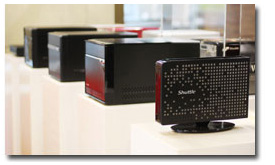 The Research and Development engineers at Shuttle are a highly experienced and creative team of professionals. For 15 years our first-rate professionals developed innovation upon innovation, continually producing the highest quality products, while maintaining our product's excellent price per performance ratio. Fully equipped with hi-end CAD tools, together with intensive knowledge of the latest cutting edge technology, the engineering professionals at Shuttle have provided superior products that have been proven winners in the market for over a decade!
Shuttle is dedicated to TQM (Total Quality Management) principles. Only genuine brand name components are used in our products and strict QA/QC procedures are followed in all manufacturing process. Approximately 200 experienced engineers are now at Taipei RD center and 100 RD resources to be set up at China.
Shuttle RD provide full system design and qualification capability from industrial design, package design, mechanical design, software, thermal, regulation application.
MANUFACTURING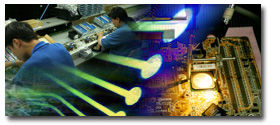 Providing the best to the world with hundreds of dedicated first class R&D engineers, advanced manufacturing capabilities, and several product excellence awards, Shuttle is undoubtedly a leading motherboard manufacturer in the world. Shuttle motherboards are designed with quality, performance, and customer satisfaction in mind. This principle has earned Shuttle a favorite nod among OEM companies and significant trust throughout the IT industry and consumers.
Making no sacrifices in quality or performance, Shuttle's XPC barebones embodies excellence and high-end performance with sophisticated style. Shuttle XPC systems are perfectly designed for PC professionals. Award winning Shuttle XPC barebones run as good as they look and feature the most advanced electronic features in any mini PC system on the market. Manufactured to the highest quality standards, Shuttle XPC barebones and XPC systems ensure reliable performance.
Shuttle adds versatility, expansion options and practicality to every XPC. Featuring a full range of value-adding accessories, modders' can't get enough of Shuttle's style adding accessories. Including Bluetooth, wireless LAN, TV out cards, carry bags and cool case designs in our product range, Shuttle has what you need to get you started today.
OUR COMMITMENTS

Our company is a member of the global region, working together with the whole global enterprises the fulfillment of the green environment. We are dedicated to work for the protection of the environment and the prevention of environmental pollution, for the minimizing of wastes and the handling of energy conservation, as well as to comply with the related legal requirements. This is to allow the whole world to be able to have our manufactured green products, and to eventually protect our environment.
ENVIRONMENTAL POLICY
Strictly implement the laws and regulations
Continuously improve the measures for preventing pollution
Re-use the recyclable resources
Conserve energy which shall be done by everyone
Aspire for green products
Safety Health and public conservancy