Shuttle, the First Tablet Manufacturer to Receive Three Environmental Certifications
Certifications: Slate-Tablet Product Category Rules, Environmental Product Declaration and Carbon Footprint
2012/02/22
Global / Company News
Shuttle Inc., the designer and manufacturer of Notebook and Tablet PC today announced its non-stop involvement in the development of environmental certifications. Following the Slate-Tablet Product Category Rules (Slate-Tablet PC Product-Category Rules; Slate-Tablet PCR), Shuttle received Environmental Product Declaration(EPD) and carbon footprint certifications, establishing the first environmental friendly standard of three certifications for Slat-Tablet PCs.
Shuttle Slate-Tablet PCR discloses the environmental impact and carbon footprint generated during the life cycle of a slate-tablet PC that covers the stages of raw material acquisition, product manufacturing, use and end-of-life. This PCR will be reference for the other manufacturers who decide to implement environmental management systems, e.g. Environmental Product Declaration(EPD) and Carbon Footprint(PAS 2050). The third party verification will hereby follow the Shuttle PCR criteria.
The requirements specified in the PCR are intended to be used for EPDs certified in accordance with ISO 14025 standard. A declaration is based on a Life Cycle Assessment. It includes information about the environmental impacts associated with a Tablet PC, such as raw material acquisition, energy use and efficiency, content of materials and chemical substances, emissions to air, soil and water and waste generation. Shuttle produces world's first Tablet PC that received EPD certificate.
Based on EPD, Shuttle follows BSI 2050:2008 to implement Life Cycle Inventory(LCI) which includes – materials, manufacturing, using, transportation, and disposal – and subsequently discloses completely the directly and indirect green house emission data during each phase. Through this process, Shuttle's Tablet PC received PAS 2050:2005 certification.
Shuttle has improved accuracy, completeness and transparency on company's carbon footprint and has been accredited and recognized by independent third parties and thus help customers better understand the carbon footprint of its products.
For further information and comments concerning the environmental certifications, please contact: Safety Dept. Section Vice-Manager Money Chien at
money_chien@tw.shuttle.com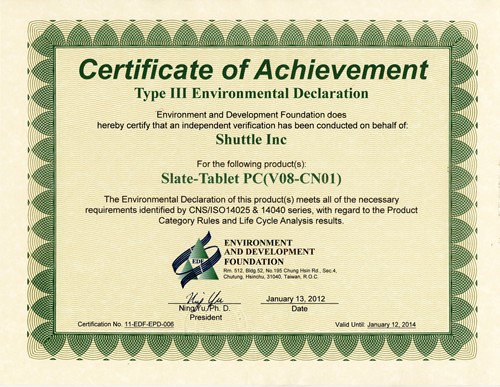 About Shuttle
Established in 1983 and publicly listed since 2000, Shuttle Inc (TAIEX 2405) is an industry leading designer and manufacturer of small form factor (SFF) computers. Shuttle produced the first commercially-successful SFF computer, or Mini PC. It's engineered to be smaller and more-efficient, yet just as powerful as a full size desktop. Succeeding the high reliability and quality of SFF, Shuttle seeks to provide further rounded solutions for digital home and commercial market.
Contact US
Marketing Dept.
NO. 30, Lane 76, Rei Kuang Rd.,
Nei-Hu Dist., Taipei, Taiwan
Tel: 886-2-8792-6168
Fax: 886-2-8792-6268
E-mail:
shuttlepr@tw.shuttle.com