The website Neo-fight recommend Shuttle X100 is the best X'mas gifts
The reviewers of www.neo-fight.tv: "The X100 is really designed to be compact!" Shuttle XPC X100 gains the 9 of 10 reviewer's rating.
2006/12/15
Global / Report & Review
(Taipei, Taiwan — December 15, 2006) The website Neo-fight in the show that talk about X'mas gifts shopping guide, they recommended the Shuttle X100 and review it in high score.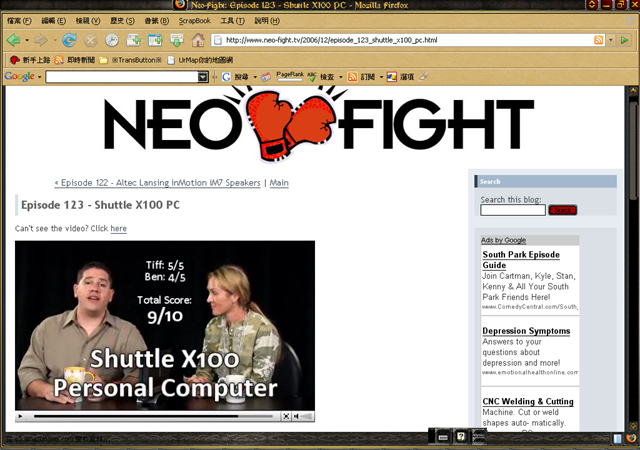 "It's really revolutionary…, it's like optional server…, it's like the TIVO of media center…, it's a smaller machine, has faster processor, it's TV, computer, network, all of it! " says the reviewer Tiffany Young, "Shuttle really done it right……, you can put on your photo on TV, it's really a cute little package!" says the reviewer Ben Freeman.
In this review, Shuttle XPC X100 gains the score 9 of 10.
About Shuttle
Established in 1983 and publicly listed since 2000, Shuttle Inc (TAIEX 2405) is an industry leading designer and manufacturer of small form factor (SFF) computers. Shuttle produced the first commercially-successful SFF computer, or Mini PC. It's engineered to be smaller and more-efficient, yet just as powerful as a full size desktop. Succeeding the high reliability and quality of SFF, Shuttle seeks to provide further rounded solutions for digital home and commercial market.
Contact US
Marketing Dept.
NO. 30, Lane 76, Rei Kuang Rd.,
Nei-Hu Dist., Taipei, Taiwan
Tel: 886-2-8792-6168
Fax: 886-2-8792-6268
E-mail:
shuttlepr@tw.shuttle.com