Shuttle Prima XPC SP35P2 Pro Wins the HWM Malaysia Silver Award
2007/12/01
Malaysia / Awards & Review / HWM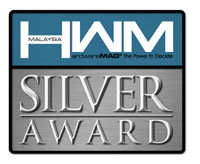 HWM, Malaysia, a well-known 3C magazine, gives the Shuttle Prima XPC SP35P2 Pro a Silver Award and recommends it as "A great barebones platform for gaming and multimedia."
As a gaming machine, the SP35P2 Pro is equipped with the high-end components, which includes: Intel Core 2 Extreme Processor QX9650 for CPU, a mixture of Kingston and Corsair DDR2 totaling 2GB for RAM, WD's 150GB Raptor X for hard disk, a standard SATA for optical drive, and an overclocked 8800GT graphics card for display.
"Using SXGA resolutions and High advanced settings the game ran really well on the SP35P2 Pro, proving its ability to play the latest games. Even with all the fans in the system, the SP35P2 Pro remained relatively quiet and cool under load." "All in all, we're proud to say that Shuttle's Prima XPC SP35P2 Pro is a more than reasonable platform for gamers and multimedia enthusiasts alike." HWM again recommends gamers and multimedia enthusiasts the Revolution of Hardcore Platform - SP35P2 Pro.
HWM's Verdict:
Features: 8.5
Performance: 8.5
Value: 8.5
Total: 8.5 out of 10
About Shuttle
Established in 1983 and publicly listed since 2000, Shuttle Inc (TAIEX 2405) is an industry leading designer and manufacturer of small form factor (SFF) computers. Shuttle produced the first commercially-successful SFF computer, or Mini PC. It's engineered to be smaller and more-efficient, yet just as powerful as a full size desktop. Succeeding the high reliability and quality of SFF, Shuttle seeks to provide further rounded solutions for digital home and commercial market.
Contact US
Marketing Dept.
NO. 30, Lane 76, Rei Kuang Rd.,
Nei-Hu Dist., Taipei, Taiwan
Tel: 886-2-8792-6168
Fax: 886-2-8792-6268
E-mail:
shuttlepr@tw.shuttle.com