Shuttle drives SFF innovation with Silent X technology
Silent X 250 Watt PSU delivers the ultimate in "Super Quiet, Super Cool" computer technology
2003/12/29
Global / Product launch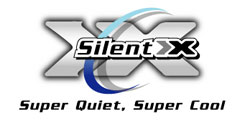 Shuttle Inc, the world's leading designer and manufacturer of small form factor (SFF) computers, is proud to announce the arrival of Silent X, a family of computer heat and noise reduction technologies designed exclusively for Shuttle's XPC line of SFF computers.
"Silent X is a world-class family of cooling and noise-reduction technologies exclusive to the Shuttle XPC," said Jonathon Yi, vice-president of product management, Shuttle. "The Silent X logo is your assurance that Shuttle XPC's are 'Super Quiet, Super Cool.'"
The Silent X concept is embodied in a number of discreet Shuttle technoligies, including,The Silent X 250W PSU,Integrated Cooling Engine (ICE); and Intelligently-engineered airflow mechanics.
The Silent X 250W PSU is available immediately as an integrated component in select XPC models. It's also available as a value-added upgrade for Shuttle's G and G2-series XPC's. ICE heat-pipe technology and intelligently-engineered airflow mechanics are standard features on all shipping Shuttle XPC's.
About Shuttle
Established in 1983 and publicly listed since 2000, Shuttle Inc (TAIEX 2405) is an industry leading designer and manufacturer of small form factor (SFF) computers. Shuttle produced the first commercially-successful SFF computer, or Mini PC. It's engineered to be smaller and more-efficient, yet just as powerful as a full size desktop. Succeeding the high reliability and quality of SFF, Shuttle seeks to provide further rounded solutions for digital home and commercial market.
Contact US
Marketing Dept.
NO. 30, Lane 76, Rei Kuang Rd.,
Nei-Hu Dist., Taipei, Taiwan
Tel: 886-2-8792-6168
Fax: 886-2-8792-6268
E-mail:
shuttlepr@tw.shuttle.com