KD20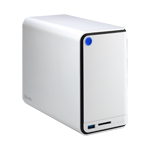 Store and Share the Great Moments in Life
As digital content has become more prevalent in daily life, users are increasingly interested in sharing this content, both inside and outside of their homes, across computers and other digital devices. Shuttle's brand new product – OMNINAS KD20 is a user-friendly 2-bay network attached-storage,designed to become a multimedia content hub- letting you easily store and share documents, personal movies, music and photos. Not only does it support access from personal computers, the OMNINAS KD20 ensures that your files are always with you - whether you're on the go with Android or iOS-based devices or basically from any place in the world.

Upload and share files from iPhone®, iPad® and Android devices
Nothing appears to be as important as accessing your content from anywhere. With one app, while on the go, you can manage, upload content to, and download from yur NAS, and stream all of your media and files from iOS and Android device.


One-Button Hot-Swap Function
Finally, a simple way to replace a hard drive that eliminates the need for any configuration. OMNINAS KD20 is the only NAS features a unique "one-button hot-swap" function. Just press the hardware button, wait for few seconds, and the hard drive can be easily removed.

2-bay 8TB Storage Capacity Supports
OMNINAS KD20 is a 2-bay designed NAS, to support up to and from two 4TB hard drives for a total capacity of 8TB. It can configure drives to work in a JBOD, RAID 0 or RAID 1 configuration, depending on data transfer and security as required.

Multiple Server Features
Print Server
The OMNINAS KD20 works as a print server which enables you to plug in your printer and share copies over the network.
iTunes Server
Creating an iTunes server based on an OMNINAS KD20 is easy to set up and allows you play back media content either via the server, or directly onto your devices with iTunes clients over a network.
Multimedia Server
If you'd like to stream, rather than just store and share audio and video files from your file server, OMNINAS KD20 can act as your personal media server and allows you play multimedia files through XBOX, PS3, or media players on TV.
Superior Performance
Featuring stable quality and excellent performance with read/write transmission at 75MB/s & 55MB/s. OMNINAS KD20 allows up to 20 multiple users to access data at the same time.
*The transmission in accordance with environmental conditions

USB 3.0 connectivity
USB 3.0 performs at 5.0Gbps (640 Mbytes/sec) at its top speed, thus enabling OMNINAS KD20 to deliver up to ten times the data transfer speed when using USB 2.0. In addition, the built-in SD card reader offers "Auto Copy", making it simple to add photos and video to your collection.
Ideal Thermal Performance
OMNINAS KD20's sleek 2.5mm aluminum housing is not only stylish to fit into your home design, it also increases the thermal performance of the device. It boasts a smart cooling engine which fan speed is adjusted automatically to ensure a reliable and quiet operation.