KD22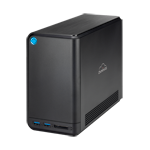 Store and Share the Great Moments Even More Convenient
Shuttle's OMNINAS KD22 is 2-bay NAS designed for home, SOHO and small office users. KD22 equipped with Marvell 88F6707 1.2GHz SOC, system memories upgraded to DDR3 512MB, and the read/write speed reach up to 110MB and 75MB per second. In addition to Gigabit LAN, KD22 features built-in IEEE 802.11 b/g/n wireless network, which supports AP mode. As long as KD22 gets connected with the Internet, you can search and access NAS database by smartphones, tablet PCs, laptops or other Wi-Fi compatible devices. It also supports multiple server functions, RAID modes, BT download and the free OMNINAS App. OMNINAS KD22 not only has general powerful storage and backup capability but also easily share and access their files, photos, music and videos anywhere.
2-Bay NAS

The KD22 is 2-bay NAS by using hard disk racks. It supports 3.5" or 2.5" HDD (or SSD) and supports the current maximum capacity of 4TB hard drives in the market. It allows to select Single HDD or Dual Single HDDs or Dual HDD for the total capacity up to 8TB.
Convenient Hot Swap Function

The OMNINAS has a unique HDD tray design that simplifies HDD installation and also supports the One-button Hot-Swap function. By using this function in RAID 1 mode, just press the hardware button, wait for few seconds, then a HDD can easily be replaced in a running system.
Supports RAID 0/1/JBOD modes

The OMNINAS supports RAID 0, RAID 1 and JBOD mode. You can choose freely which mode is right for you highest read/write performance (RAID 0), best data protection (RAID 1) or largest useful capacity (JBOD).
Acronis True Image Backup Software

The OMNINAS models bundled with a copy of Acronis True Image Personal Edition software. This utility provides powerful data backup capabilities that support full backups or selected backups of key files, enhanced flexibility and convenience of data backups.
PTP Camera Copy

Insert camera which supports for PTP function into the front panel USB 3.0 ports, NAS will automatically save your photos and videos to the specified folder, allowing you to save data without opening computer.
iTunes Server

Creating an iTunes server based on an OMNINAS is easy to set up and lets you play back media content and stream it directly on to your devices with iTunes clients over a network.
Print Server

The OMNINAS works as a print server. Simply connect a printer to the NAS to share copies over the network.
Energy saving & Green power

KD22 comply with IEEE 802.3az network energy conservation standards. It has lower power consumption when NAS is at stand by or sleep mode. With green power design, KD22 not only saves electricity costs for you but also is environmental friendly.
BT Download without PC

You only need to load BT seeds to your NAS. With the BT function, you can download files without PC and save electricity costs. This feature supports schedule download, task download, and download configuration etc.
Online Firmware Update

Unlike other NAS products with complicated updating procedures, KD22 offers easy online firmware update, when you receive the new firmware notification, and decided to update, it will automatically download firmware to your NAS and update to latest version.
Hotspot Function
KD22 is a built-in Wireless AP (IEEE 802.11 b/g/n) that supports the Hotspot function. KD22 extends its application environment to the wireless network and all Wi-Fi compatible devices at home or in the office and makes digital content accessible worldwide. You can search and access the NAS database directly and experience its convenience wirelessly.
Superb transfer performance

KD22 is based on Marvell 88F6707 1.2GHz SOC CPU and DDR3 512MB memory, supports Gigabit LAN, the read/ write speed reach up to 110MB and 75MB per second. The OMNINAS KD22 allows multiple users up to a number of 256 to access data at the same time to meet home, SOHO or SMB sectors needs.
*The transmission performance according to environmental conditions may vary.
Single-HDD Expansion (Dual Single drives)
The KD22 supports Single-HDD expansion mode. When using a single HDD mode, it can be inserted a second hard disk as an expansion to the backup, category or store data; you can always remove or replace the second hard drive, just as the use of external hard drives.
USB3.0 & SD Card Reader

The OMNINAS comes with two USB 3.0 high-speed ports and SD card reader at front panel. The USB 3.0 ports boast transfer rates of up to 5.0Gbps (640Mbyte/sec) which is around 10 times faster than USB2.0. Both of USB 3.0 and SD card reader are with "auto copy" function that you can store digital content, such as photos and videos, quickly to their NAS without turning on PC.
DLNA Media Server-Twonky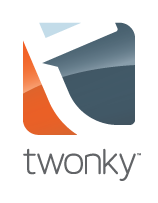 The integrated Twonky DLNA Media Server software automatically sorts all the media stored on the NAS (photos, videos, music), so you no longer need to spend time organizing all the files. High compatibility with other DLNA devices and support for a wide range of multimedia formats enables the OMNINAS to easily play more multimedia contents.
FTP Server

KD22 supports FTP server function. You only need to complete the Router and NAS setting and you can build FTP server on NAS, by internet allowing your friends and family easily to transfer data at anytime and anywhere.
OMNINAS App

All of OMNINAS series products provide internet cloud sharing feature (Remote Access), can easily be connected to your mobile devices, such as laptops, smart phones, tablets, etc. By downloading OMNINAS App to smart mobile devices, you can easily share and store the files, photos, music and videos to family and friends from any place in the world when you are away from home.
Excellent Cooling Design

The OMNINAS KD22 particular the use of 2.5mm aluminum housing design is stylish to fit into home decoration, and it also increases the thermal performance of the devices. It comes with a smart low-noise cooling system. In a team of smart cooling engine, the fan speed is adjusted automatically to ensure stable and quiet operating environment.
Schedule on/off & One touch to turn off LEDs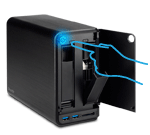 The KD22 provides schedule on/off function. After you finish related settings in the Web UI page, NAS switch on/off automatically. KD22 also provides one touch on Power button to turn off the status LED and another one touch to turn on it.