X200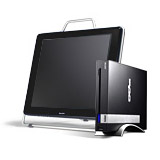 Save Space, Get More Power
Shuttle XPC mini X200 sets a new standard. With a surface barely the size of a sheet of A4 paper or a magazine, and a height of only five centimeters, the XPC mini X200 is the smallest SFF PC ever. The TV tuner is built-in; the petite MCE platform brings you the media center, say goodbye to your VCR, CD, DVD, and receiver appliances. It's a petite MCE platform, you can simply do more while from the comfort of your own couch with just a push of a button. Enjoy multimedia convergence with a small PC at home or office.
As the saying goes, good things came in small packages, and the XPC mini X200 comes packed with some of the best PC hardware and components enhanced for performance and stability with Shuttle's exclusive Silent X technology. It's more power efficient and noise reduction.
The XPC mini X200 offers a number of user configurable options including a choice of Intel® Celeron™ M or Core 2 Duo processors, a range of hard disk capacities, wireless LAN, multimedia remote, integrated TV tuner, and a SD card reader which altogether make it the right choice for any home or office looking for performance and unrivaled style.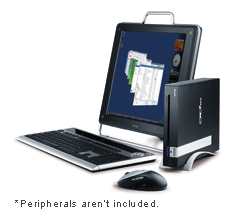 Hot Features
- Intel® Core™ 2 Duo Processor
- Intel 945GM + ICH7M Chipset
- Dual channel DDR2 667/533 SODIMM
- 7.1 High Definition Audio
- SATA II 3Gb/s storage
- Intel GMA 950
- Slim Slot-in Optical Drive
- SD card reader
- Advanced I/O
- IR receiver
- TV Tuner (Optional)
- Multimedia Remote (Optional)
- Wireless LAN (Optional)

Intel® Core™ 2 Duo Processor
Experience revolutionary performance, unbelievable system responsiveness, and energy-efficiency built in – up to 40% faster and over 40% more energy efficient.
Intel 945GM + ICH7M Chipset
The Mobile Intel® 945GM Express chipset's low power design enables up to 28% less average power consumption compared to previous generations. Featuring the Intel® Graphics Media Accelerator 950, the Mobile Intel 945GM Express chipset delivers up to 2x improvement in graphics performance over the previous generation chipset.

SATA 3Gb/s storage
Offering up to SATA 3Gb/s bandwidth for the best possible hard disk performance. Compatible with standard desktop 3.5" drives, the XPC mini X200 offers hundred of gigabytes (GB) of storage; enough for an entire family's collection of digital images, audio and movie files or thousand of emails, contacts and important work documents.
Intel GMA 950
The new Intel® Graphics Media Accelerator 950 (Intel® GMA 950) graphics core is an intelligent and responsive graphics engine built into the chipset that is on the motherboard. This integration provides incredible visual quality, faster graphics performance and flexible display options without the need for a separate graphics card. With a powerful 400MHz core and DirectX* 9 3D hardware acceleration, Intel® GMA 950 graphics provides performance on par with mainstream graphics card solutions that would typically cost significantly more.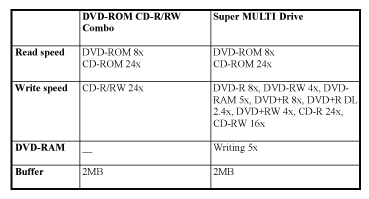 Optical Drive
Watch great DVD movies, enjoy your favorite music, and load the latest software on CD or DVD-ROM.
With the DVD-ROM CD-R/RW Combo drive you can backup hundred of pictures, documents and files onto inexpensive, CD media, or choose the Super MULTI Drive option to write DVD-RAM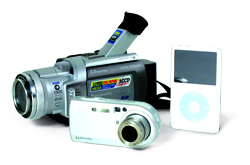 SD card reader
Quickly transfer files from your digital camera, portable music player, PDA or smart phone with the included SD card reader.
(Supports SD, MMC, MS and MS Pro.)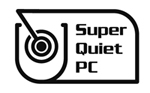 SilentX Technology
The XPC mini X200 generated less than 24dB of noise under load.
Turn on the XPC mini X200 and suddenly the environment around you changes. With innovative engineering and technology, the XPC mini X200 brings a new meaning to "whisper quiet."
PN18-802.11 b/g Wireless LAN Kit (optional)
Share your internet with friends and family
Wicked-fast 54Mbps transfer rate up to 400 meters
Industry-standard security built-in 64/128/256 bits WEP, WPA Encryption
Integrated TV tuner (optional)
The integrated TV tuner provides flexibility to watch and record your favorite television shows.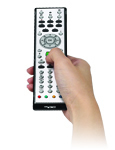 Multimedia Remote (optional)
The Media Center remote control keeps all of the entertainment on your computer within easy reach, complementing the keyboard and mouse.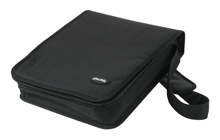 PF100-XPC 2 Go Carry Bag (optional)
Firm and solid bottom provides maximum protection and stability.
Decompression strap.
Includes two canvas bags for collecting the cables or other accessories.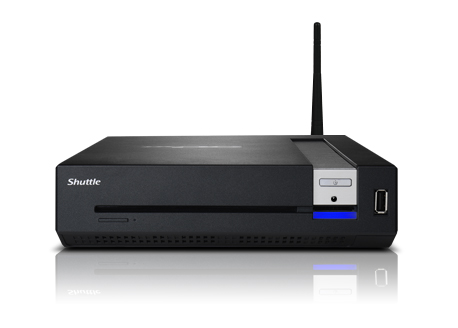 Advanced I/O - Front view
- USB 2.0 port
- SD card reader
- Power button
- Power LED
- ODD LED
- IR receiver (Optional)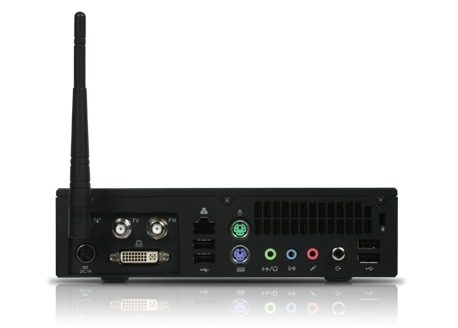 Advanced I/O - Back view
- DVI-I VGA connector
- RJ45 10/100 Fast Ethernet LAN port
- USB 2.0 port x 4
- Mic in
- Line in
- Line out/Headphone
- Safety-lock
- PS/2 Keyboard port
- PS/2 Mouse port
- S/PDIF out
- DC in
- WLAN port (Optional)
- TV port (Optional)
- FM port (Optional)
Supported Accessories
- PN18
- PF100