PE20(STORAGE EXCLOSURE)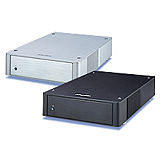 Xtended Storage Enclosure
Designed to match the design aesthetics of the Shuttle XPC-the world's best-selling small form factor computer-the PE20 Xtended Storage Enclosure features leading-edge design innovation that make it the perfect way to integrate today's advanced storage technologies into your workflow and lifestyle.
The PE20's incredibly tough, yet lightweight aluminum outer shell protects your precious hardware and data investments. It's been designed from the ground up to visually and technologically match the style and performance metrics of the groundbreaking Shuttle XPC.
Rugged aluminum construction
Tough, yet light aluminum outer protects your precious hardware and data.
Compatible w/ 3.5", 5.25" drives
Near universal compatibility with IDE optical (DVD & CD) and hard drives
Designed for the XPC
Superb brushed aluminum finish and perfect color match (black & silver)
Stackable design
The optimal solution for your growing storage requirements!
Stereo audio out
Enhances your multimedia experience with simple plug & plug operation