NS02 SERIES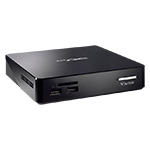 The ARM-based Digital Signage solution
The new line of XPC nano NS02 series is an ARM-based digital signage solution, with a case that measures only 0.5Liters in volume. Support Android operating system with remarkably low price and excellent stability for digital applications like menu board and digital signage. The NS02 series is equipped with Rockchip Octa-Core 1.5 GHz processor, built-in DDR3L 2GB low-voltage memory. It not only supports Full HD playback capability but also built-in HDMI 2.0 video output is able to support 4K Ultra HD at 60Hz. In addition to built-in 16GB eMMC, this series also provides SATA storage interface and SD card reader to offer users flexible storage expansion. The new NS02E can support PoE (Power over Ethernet), allowing users easily to do on-site installation without any wire and AC adapter. The NS02 series will be pre-install Shuttle house design digital signage software. Users can use their mobile devices to easily operate this digital signage software. With 24/7 certified and fanless design, this series provides a high stability and cost-effective solution for industry applications.
Application field:Digital Signage, Office, Thin client, HTPC
Equipped with Rockchip RK processor

The NS02 series is equipped with Rockchip RK3368 Octa-core processor. Its compact design built-in DDR3L 2GB low-voltage memory effectively reduces the power consumption of the system.
Free digital signage software

The NS02 series is pre-install Shuttle house design signage software DS Creator 2.0.* Users can easily schedule and dispatch their content to the NS02 series through their mobile devices.
*Detail of software support, please refer to NS02 series download page.
Support 4K Ultra HD
Equipped with one HDMI 2.0 video output, the NS02 series supports UHD resolutions of up to 4K @ 60Hz for a crystal clear imaging. This series can also support HEVC / H. 265 video decoding.
Support wide temperature operation- High Stability
The NS02 series uses high quality materials to meet the environmental operation demands of commercial applications. Its rugged design allows for stable operation over long periods of time – even in 40⁰C environments*.
Multiple storage choices
The NS02 series has onboard 16G eMMC and is built-in SATA storage interface and SD card reader to support one 2.5" SATA HDD/SSD (7mm ultra slim) or an SD memory card for more storage space.
Kensington security Lock

With Kensington lock design, the NS02 series can be placed at home, office or public areas with more security and prevent theft of the machine as well as data.
Pre-loaded Android 5.1.1

With pre-install Android 5.1.1, the NS02 series does not require any installation. Simply plug and play, users can easily enjoy multimedia or document files.
Support Power of Ethernet (PoE, NS02E only)

The NS02E is designed for support PoE. With PoE, the power is from PoE injector or the PoE switch hub. Users can easily do on-site installation without having to connect to AC power resulting in lower installation costs and shorter installation time.
Fanless design

The NS02 series features fanless design to reduce power consumption required by a fan as well as the cost of replacing fans on-site, ideal for noise sensitive environments.
VESA mount ready

Designed to fit seamlessly into your lifestyle, the XPC nano is capable of mounting to the rear of LCD monitor or a TV. This space saving capability makes it easy to blends into anywhere, including home, any offices, and commercial environments.
Auto power on

The NS02 series can be set to automatically power on, suitable for use in automatic boot environment such as exhibition, shopping mall, museum, and more. When the power is turned on, the NS02 series will be able to automatically boot up.