XS35GS V3
Shuttle's XS35GS V3 (EU-Model XS35GTA V3) Received The Recommended Award from Fudzilla Website
2012/10/02
Austria / Award News / Fudzilla Website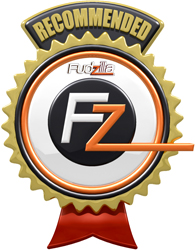 The Fudzilla website has reviewed and tested the Shuttle's XS35GS V3 (EU-Model XS35GTA V3) and granted it with the "Fudzilla Recommended" Award in August 2012. The Fudzilla review indicates that the Shuttle's XS35GS V3 offers an entire office/HTPC system packed in a small, VESA mountable, 1.57-litre chassis that should pack enough punch for full-HD movies, 3D content and regular office work.
"Shuttle decided to go for a strange combination that features Intel's dual-core D2700 Atom CPU paired up with AMD's Radeon HD 7410M graphics and Intel N10 Express chipset, something that we have not seen before" amazed the Fudzilla's Slobodan Simic. "The Radeon HD7410M, when compared to the GPU in the E-450/E350 APU actually has 80 stream processors more, but works at a slightly lower GPU clock, so it should end up to be faster than GPU found in those quite popular APUs, and course, the D2700 is certainly faster than any of those APUs so these two sound like a match made in heaven". Also, the one thing that Fudzilla mostly like on the XS35GS V3 is that it produces zero noise. The XS35GS V3 has an advantage of a completely silent system and performance wise generally ends up faster than most HTPCs(similar priced and similar sized).
To read the full review article, please click Here.(
http://www.fudzilla.com/home/item/28329-shuttle-xs35gta-v3-15l-barebone-tested/28329-shuttle-xs35gta-v3-15l-barebone-tested
)
About Shuttle
Established in 1983 and publicly listed since 2000, Shuttle Inc (TAIEX 2405) is an industry leading designer and manufacturer of small form factor (SFF) computers. Shuttle produced the first commercially-successful SFF computer, or Mini PC. It's engineered to be smaller and more-efficient, yet just as powerful as a full size desktop. Succeeding the high reliability and quality of SFF, Shuttle seeks to provide further rounded solutions for digital home and commercial market.
Contact US
Marketing Dept.
NO. 30, Lane 76, Rei Kuang Rd.,
Nei-Hu Dist., Taipei, Taiwan
Tel: 886-2-8792-6168
Fax: 886-2-8792-6268
E-mail:
shuttlepr@tw.shuttle.com