BR06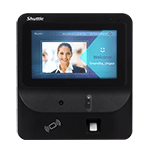 A Turnkey Solution for Face Recognition
Shuttle has dedicated to developing face recognition solution for many years. Shuttle has introduced new biometric solution-BR06, providing more fast recognition speed, larger user database, and lower power consumption. The intelligent facial feature identification capability provided by it consists of a non-invasive and non-contact biometric technology. The all-new BR06 is a 7-inch LCD single touch screen with fanless design. This system is built-in one IR camera and IR LEDs so users can enroll and detect their faces without light restriction to provide accurate recognition capability. System integrators can connect multiple peripherals via RS232, RS485, and GPIO. In addition, BR06 especially includes Wiegand interfaces to easily connect access control and security devices such as reader and door/gate locking hardware. The series provides the facial, NFC, and fingerprint (optional) multi-recognition to offer double or even triple authentication, designed for small and medium business, banks, education institutions, and communities for access control, security and VIP membership management applications.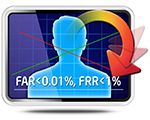 Rapid and Precise Recognition Capability
The BR06 is powered by an iTE IT9856 SoC to effectively enhance its database search and facial recognition processing capabilities. Regarding its recognition success rate, False Acceptance Rate (FAR) testing results show a value of less than 0.01% and False Rejection Rate (FRR) testing results show a value of less than 1%.

Fanless design
The BR06 features fanless design to reduce the power consumption and eliminate the noise produced by fan as well as the cost of replacing fans.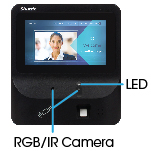 IR Camera and IR LEDs
The BR06 is integrated with one IR and one color cameras, located on the lower section of the display. With IR camera and IR LEDs, the users can easily enroll and detect their faces without light restriction to provide accurate recognition capability.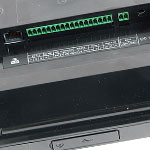 Numerous Interfaces for Diverse Applications
With built-in Weigand, RS232, RS485, and GPIO multiple I/O interfaces, the BR06 can easily connect related peripherals such as security host, access control host, reader, door locker, alarm, and door sensor. The Weigand and GPIO interfaces can be used for access control and security applications, allowing users to rigidly control the access to their residences. These interfaces can further be integrated with VIP membership control management to provide optimal services.

Customized Operation Interface
The BR06 provides Web Service API and SDK, which facilitate SI clients to customize the various designs of the operation interface to suit their application needs (e.g., buttons, background, and function field configurations). Clients can even add or remove functions depending on actual usage conditions.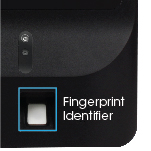 Optional Fingerprint Identifier
Built-in facial and NFC card reader recognition, clients can also choose to purchase an optional fingerprint identifier or that integrates with the BR06 based on their application environment and requirements. These peripherals further enhance the original BR06 system into a bi- or tri-functional identity recognition system, achieving even greater protection.

Auto power on
The BR06 can be set to automatically power on when a power plug. With auto power on, the system will work correctly once power restart.
Two ways to installation
The BR06 meets international VESA mounting standards and is capable to mount to the wall. Shuttle is specially designed an optional wall mount bracket PV06 accessory for BR06. With this mount bracket, BR06 can be easily installed on the wall without product cables for clean and neat outlook.

Support Real-Time Operating System (RTOS)
The BR06 is running by RTOS. Due to the small size of programs RTOS, it is particular used in embedded systems such as BR06 for any applications which run 24/7 permanent operation.