D10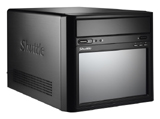 Digital Life at Your Finger Tips
D10 comes with an embedded 7-inch touch panel in a creative media centre gadget which delivers various applications with the easiest operation. Through surveillance software and equipment, it gives the convenient way to secure your home. D10 is designed as standalone media center to experience the digital entertainment just with a remote control directly.
D10 supports dual display with the clear and expanded view to let you enjoy your favorite entertainment. It's absolutely a modern and simple appliance for your living room!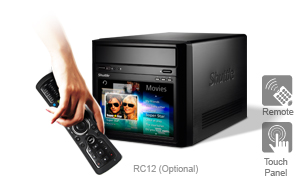 Touch to play
The embedded 7-inch display with touch screen technology delivers the simplest operation by giving the multiple functions beyond your imagination. The high-tech design lets you control multimedia functions from music, movies, video playing to internet surfing with one easy click.
You can always enjoy being a master in the living room. Shuttle provides a one-for-all remote control with four quick buttons on it. Simply select an activity and the remote will send the quick commands to your D10 without flipping back and forth the buttons.
Dual display technology
Dual View technology offers convenient visual experience and better work efficiency. Working with 2 monitors means you are no longer confined to a single monitor, spreading your work or entertainment over dual displays. No more minimizing display, you can see clearer and work more efficiently and effectively.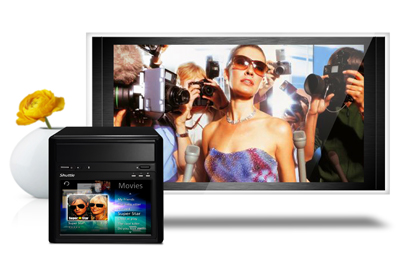 Simple entertainment centre
It's time to abandon your keyboard, mouse and monitor! You can experience the digital entertainment easily by one click. Connect the D10 to your big screen TV and you can enjoy entertainment right away, from music, movies, TV programs to internet surfing with touch screen clicking or an IR remote control.
Power efficient and quiet
D10 helps you to save power consumption and it provides quiet environment, which produce less than 30 dBs while enjoy your favorite entertainment.