D1416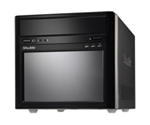 Shuttle D1416
Your Reliable Surveillance Solution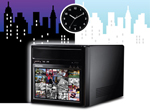 16 Channel 24/7 Real Time Recording
Supporting up to 16 channels of real-time recording, the Shuttle D1416 is designed to offer the utmost in flexibility to make surveillance operation easy for home users. Users can set a weekly recording schedule at will, and mark which hours of the day to record or not record at all. The selected video clips are all time stamped for future searching and playback.
Motion Detection and Recording
The surveillance cameras can be set up in multiple locations for any area of your home. Home users are allowed to simultaneously monitor all cameras at one time and have the functional recording program if motion is detected. It is ideal for capturing any suspected images without wasting time searching.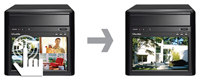 One Touch to Secure Your Home
The D1416 includes a 7-inch display with touch screen technology that enables users to operate simple-and-direct commands. Special designed graphic user interface identifies specific functions so that users can directly interact with the computer screen. It only takes one touch to secure your home.
Remote Surveillance
The Shuttle D1416 is certainly a worry-free security solution that users can keep an eye on things at home when away over network connections. Users can also receive real-time happenings or surveillance footage, for example when an intruder breaks into the house, an instant response is allowed to implement right away.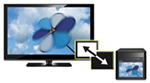 Dual Monitor Real-Time Display
The dual display technology offers convenient visual experience and better work efficiency. It allows live and video playback to be viewed on separate monitors. Moreover, Shuttle's application menu also offers a variety of multimedia functions, including video, music, photography and much more to spice up monotonous surveillance tasks without missing any moments.
Smart Wake-up
The D1416 features the leading technology that enables to restart the surveillance task after sudden destruction of electricity or system crash.
* Watch Dog: Watchdog ensures added security by automatically re-booting the system when its hardware or software malfunctions.
* Power Resume: The D1416 is designed to make surveillance task easy to save, archive and retrieve records. Resolving the data loss problem that a traditional surveillance system encounters during sudden electricity shutdown, the D1416 saves recording data until power is restored.

Custom User Interface
User-friendliness is always a major concern of Shuttle's design. The D1416 supports up to 4 custom tailoring items on application menu and users are able to run quick access to programs according to actual needs.
All-in-1 Gadget
It can't be a more tempting offer that the D1416 is not only a reliable surveillance hardware, it also works as a standalone computer. Without any keyboard, mouse, monitor and other accessories, users can run the D1416 as a PC to handle daily operations.