DH270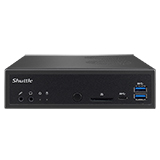 Rugged and powerful enough to drive even up to three 4K displays
Geared towards large and high-resolution signage application, the Shuttle XPC DH270 XPC slim, is based on the Intel®H270 chipset, supports LGA 1151 Intel®6th/7th generation Core™ i 65W processors. With integrated Intel® HD graphics, the DH270 can support 4K/UHD video playback on up to three screens via three HDMI outputs. In addition it supports DDR4-2133/2400 memory, as well as Intel® Optane™ technology improve on processing and data transfer speed and agility. The DH270 provides multiple I/O and high-speed storage interfaces, including USB 2.0, USB 3.0, SATA 6Gbps, RS232/422/485, M.2 type M and A/E, and Mini PCIe. Thanks to Shuttle's exclusive heat-pipe cooling with smart fan, the DH270 is capable of long-term operation at high stability and reliability levels Its slim 43mm design and VESA support to makes it easy to integrate in diverse commercial environments.

Supports Intel® 6th /7th Generation Core™ Processor
Based on socket LGA 1151, the all-new DH270 supports both Intel® 6th/ 7th Generation (Skylake/Kaby Lake) Core™ i3/i5/i7, Pentium®, and Celeron® 65W processors. The built-in DirectX 12 compatibility with Intel® HD Graphics significantly increases CPU and GPU performance.

Intel®H200 Series Chipset
With the integrated Intel® H270 chipset, the DH270 supports dual channel DDR4 2400 SO-DIMM memory up to 64GB (2x32GB). It also comes with Intel® Gigabit LAN, SATA 6Gbps and USB3.0 interfaces for superb data transfer speed.

Intel® Optane™ Technology
With a 7th Gen Intel® Core™ processor, the DH270 supports the latest Intel® Optane™ technology which makes your overall system performance up to 28% faster.

Supports 4K Ultra HD
The DH270 supports playback of 4K high resolution (3840x2160) content via HDMI 2.0. At four times higher resolution as the Full HD standard, viewers will enjoy detail-rich and crystal clear images.

Triple Display Support
Spread your content across three screens via HDMI outputs. You can smoothly convey dynamic high-resolution information and target promotions at your audience.
Supports two M.2 expansion slots
The DH270 has one built-in M.2 2280/2260/2242 Type M and one M.2 2230 Type A/E slot for an M.2 SSD and a WiFi card or other compatible devices.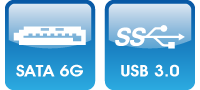 High-speed data transmission interface
The DH270 features native SATA 6Gbps, two USB 3.0 and one USB 3.0 Type-C interface. No more figuring out the right way of plugging in a USB device, USB 3.0 Type-C could be easier to use and is able to increase data transfer speed too.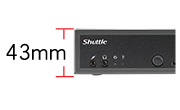 Slim Design and Easy Assembly
The DH270 has significantly less cables and no daughter board. This makes for easy assembly as well as enhance thermal efficiency and system stability due to increased airflow.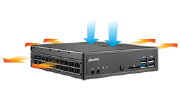 Heat-pipe cooling technology
The DH270 features Shuttle's exclusive heat-pipe cooling module with smart fan design. The clever ventilation design allows for constant air circulation between the inside and outside of the machine resulting in high stability and low noise for long-term operation.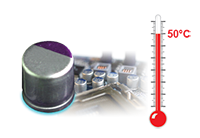 Operable in 0-50⁰C environments
The DH270 uses industrial capacitors in order to meet the environmental operation demands of commercial applications.

Supports Intel® Dual Gigabit LAN
The DH270 has built-in Intel® Dual Gigabit LAN, supports Wake on LAN and Teaming Mode function to provide high-speed data transfer capability and thus a better business networking integration.

VESA Mount-Ready
The DH270 is VESA mount compliant and allows for versatile integration into hardware systems. This space-saving capability makes it well-suited for digital signage applications where mounting space is a crucial factor.

24/7 Nonstop Operation
The DH270 is officially approved for 24/7 permanent operation while maintaining. Shuttle's low-power consumption design. Highly reliable and long-term operation is essential for digital signage and other vertical applications.

Supports Power on by RTC
Power on by RTC can be enabled in the BIOS and allows DH270 users to set a time to boot up the system. This can also be turned on and off in the Windows task scheduler. RTC can help make for savings on the electricity bill and also help reduce maintenance costs.
Operating System support
-Windows 10 64bit
-Windows 7 32/64bit (Skylake only)
-Linux


Watchdog - protecting system security
Watchdog Timer provides excellent security features for systems that need to operate continuously for a long period of time. Use Shuttle's Watchdog utility to maintain normal operation and stability of the system at all times.