DL30N SERIES
Maximize IoT Capabilities With 12th-Gen Processor PC: Triple Displays, Dual 2.5G Lan, Versatile Applications
Shuttle's DL30N series, a fanless PC, features Intel® Alder Lake-N processors and offers supports the latest DDR5 memory technology. It supports three independent display outputs, ensuring reliable multitasking capabilities. The inclusion of dual Intel® 2.5G Ethernet ports with Wake on LAN, along with compatibility with wireless WiFi and 4G/LTE kits, adds flexibility for network options. Additionally, the DL30N offers a comprehensive range of I/O interfaces, including up to 8x USB 3.2 Gen1, 2x COM ports, HDMI 2.0b, DisplayPort 1.4a, and VGA ports. Its versatility allows seamless integration into various industries, such as digital signage, kiosks, POS/self-service machines, and IoT/edge computing, all while operating at low power to reduce operational costs.
Intel® 12th Generation Alder Lake-N Processors
The DL30N series offers three models: N100, N200, and Core™ i3-N300, powered by the 12th Gen Alder Lake-N Processor. These processors deliver significant improvements in CPU performance (28%) and display performance (64%) compared to the previous Jasper Lake processors.
The DL30N series also supports DDR5-4800MHz memory, operating at a reduced voltage of 1.1V. DDR5 memory provides enhanced performance, higher bandwidth, and increased capacity compared to DDR4, resulting in faster data transfer rates and improved multitasking capabilities.
With Intel® UHD series graphics cores, the DL30N series ensures smooth playback of 4K/UHD multimedia content, delivering exceptional performance for visually demanding applications.

Triple-Display Productivity
The DL30N series features three independent display outputs, including HDMI, DisplayPort, and VGA. This allows for efficient multitasking, extended desktop setups, and engaging digital signage installations with dynamic content spread across multiple screens. Additionally, the HDMI and DisplayPort ports support resolutions up to 4K (4096x2160) at 60Hz, ensuring high-quality visuals and a seamless viewing experience.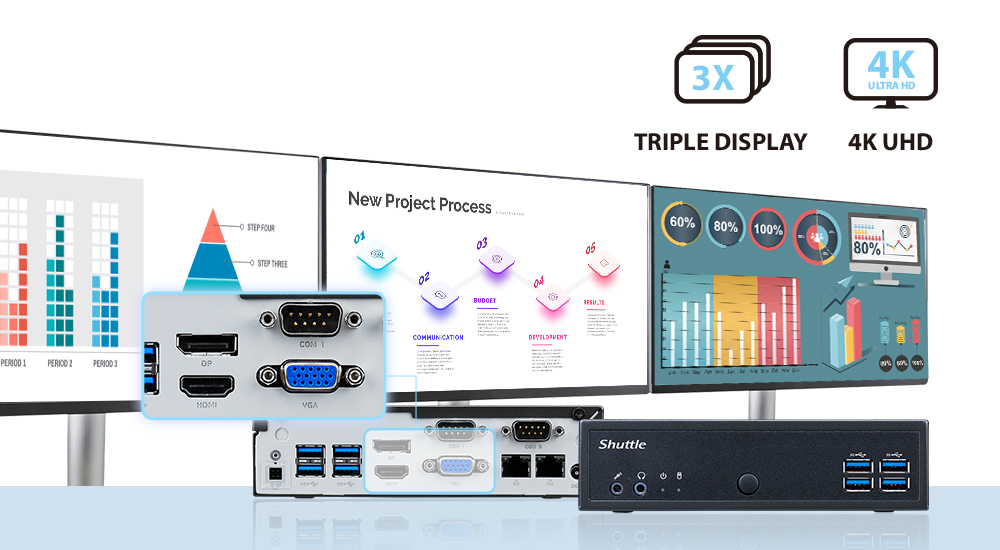 Silent, Slim, and Low-Power Fanless Design
With its passive cooling design, the Shuttle fanless series guarantees quiet operation and an excellent user experience. This design not only minimizes the risk of dust accumulation but also eliminates the potential for injuries associated with the long-term use of cooling fans. The fanless design ensures stable durability and virtually maintenance-free operation.
The DL30N excels in its outstanding low-power consumption performance and in meeting the demands of 24/7 uninterrupted operation. It is VESA-compatible, slim, and delivers exceptional low-power and high-performance capabilities.

Great Internet Connectivity
The DL30N series is equipped with dual Intel® 2.5G LAN ports, providing excellent network connectivity, and supports Wake On LAN (WoL) technology. Additionally, the DL30N features one M.2 2230 Type E expansion slot, allowing for the installation of an optional 802.11 AC WiFi module or a 4G/LTE expansion kit. This flexibility enables easy integration into diverse networking environments and simplifies network connections.
* P.S. Using WWN03 means no support for 2.5" HDD/SSD.

Multiple I/O for Multi-Application Possibility
The Shuttle DL30N boasts a diverse and flexible I/O interface design. It is equipped with eight USB 3.2 Gen1 ports, providing high-speed connectivity for various peripherals. Additionally, it includes two expansion COM ports: one RS232 and one RS232/422/485, offering compatibility with a wide range of devices. The COM ports also support voltage output options of 5V or 12V, allowing seamless integration with devices such as thermal printers, automation equipment, and laser barcode scanners. This versatility enables the DL30N to meet the requirements of different applications and enhance connectivity options.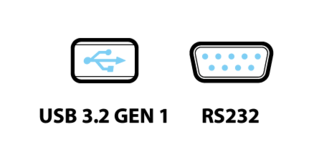 Operating System Support
● Windows 11 64bit
● Linux