DNVR SERIES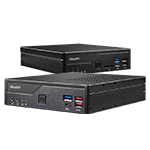 VMS Mini Workstation
Shuttle's VMS mini-workstation DNVR series is ideal for video surveillance applications in retail shops, banks, SMB's, and industrial scenarios. Built upon the Intel® 10th Gen Core™ i5-10400 processor, with multiple expansion interfaces and display ports, the DNVR series provides high performance in order to run VMS software for highly efficient IP video management. There are two models in this series: DNVR-410 and DNVR-470. DNVR-410 supports dual displays, and DNVR-470 supports three independent displays. Additionally, both models support 4K UHD resolution, have built-in Intel® 1GbE Gigabit LAN, as well as Teaming mode and Wake-On-LAN, providing high-speed data transfer capabilities and better compatibility for the network environment.
The DNVR Series comes integrated with VAST 2 video management software from VIVOTEK, a world leader in security surveillance. With a simple and user-friendly interface, VAST 2 enables users to connect up to 32 VIVOTEK network cameras. VAST 2 is already fully integrated with VIVOTEK's Smart VCA, Smart Search II, LPR (License Plate Recognition) solutions, cybersecurity management solutions, evidence export, and many other add-on functions. Smart VCA enables users to define event triggers effortlessly, allowing for better alarm management. Smart Search II allows users to quickly search through video evidence to find specific events or people. Users can even set up customs zones to focus on critical areas.
VMS Workstation Features
Integrated Intel® CoreTM i5-10400 10th Gen Processor (2.9GHz with 6-Core, 12-Thread)
Built-in HDMI and DisplayPort outputs* with 4K@60Hz high resolution (4096x2160)
*DVR-470 supports up to three independent displays
*DNVR-410 supports dual independent displays
Built-in dual Intel® Gigabit LAN and supports Wi-Fi modules expansion
Featured 2.5" 1TB HDD, and offers expansion capacity for M.2 SSD and SD reader
VESA Mount-Ready

VAST 2 Key Features
Supports H.265 HEVC/H.264 AVC
License Plate Recognition Solution
Smart Search II : Allow searching for specific objects or people related videos
Smart VCA Integration: Improved Accuracy for People & Object Detection in VIVOTEK Cameras
System overview dashboard
Multiple Fisheye Dewarp Modes
Interactive 2.5D maps
Evidence Export: Manually Export Video Recordings or Alarm Clips
LPR solution
Other add-on solutions: failover protection, transportation solution, transaction solutions with POS integration, and Data Magnet integration solutions
Display Station

Video Management software and IP Camera partner
As one of the world's most trusted IP surveillance solutions provider, we deliver intelligent security, control, and management for a safer society.
Founded in Taiwan in 2000, we are widely recognized for our expansive technical capabilities in imaging and audio, specializing in IP cameras, video management software, and edge based AI video analytics. In 2017, we joined the Delta Group, a global leader in power and thermal management solutions, to serve as the security and intelligence core of Delta Building Automation Business.