DS57U SERIES
An energy efficient Full HD media player, DS57U
The DS57U supports the latest Intel® Broadwell platform technology, equipped with Celeron® 3205U high-performance dual core processor. With 14nm process, the maximum TDP is only 15W and support for DDR3L-1333/1600 memory module with low-voltage 1.35V. It features fanless cooling design for stable operation in 0-40 ℃ environments. The DS57U is also highly connectable with multiple I/O, including USB2.0/3.0, Dual Intel® Gigabit LAN ports, and two COM ports. Built with digital signage in mind, the player supports dual-screen display via (1) HDMI and (1) DisplayPort. It's made with a durable metal chassis that features easy configuration of components. The DS57U is 24/7 certified with a mere 65W adapter, built to fit for diverse applications.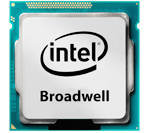 Intel® Broadwell Platform Technology
Shuttle's new DS57U supports the latest Intel® Broadwell platform technology, equipped with 14nm Intel® Celeron® 3205U 1.5GHz dual core processing power. It features support for up to DDR3L-1333/1600 16GB memory with built-in Intel HD Graphics, able to deliver Full HD / 1080P video resolution.
*There are three optional SKUs, including DS57U3 (i3-5005U), DS57U5 (i5-5200U), and DS57U7 (i7-5500U) support for 4K/Ultra HD video playback.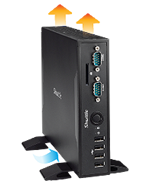 Fanless design
The unique fanless design eliminates the power consumption required by a fan as well as the cost of replacing fans. Use with solid-state disks can create an operational platform completely free of noise.

Dual Display
Display imaging on up to two screens via HDMI + DisplayPort. Use an adaptor to convert HDMI into DVI interface and DisplayPort into HDMI or DVI interface for diversified signal selection.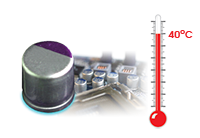 Operable in 0-40 ⁰C
The DS57U is suitable for 0 ~ 40 ℃ working environment to meet the environmental operation demands of commercial applications.
*With use of SSD and Wide Range Temp. SODIMM

24/7 Certified
Designed for digital signage, kiosk, POS, and other applications which require 24/7 operation.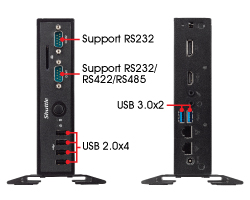 Multiple I/O Interfaces
With built-in RS232, RS232/RS422/RS485 interface, four USB 2.0 ports at the front panel, and two USB3.0 ports at the rear panel, the DS57U can easily connect to peripherals such as thermal printer, label printer and bar code scanner. It offers a wide range of vertical applications.

Intel® Dual Gigabit LAN High Connectivity
The DS57U is built-in Intel® i211 and i1218 Dual Gigabit LAN as well as support for Wake On LAN and Teaming Mode function to provide high-speed data transfer capability and a better compatibility for business network environment.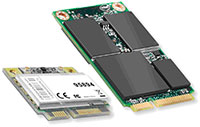 Built-in 2x Mini PCIe slots
The DS57U features strong expandability with one full size and one half size Mini PCIe slots. This compact system can support mSATA SSD and WIFI modules, among other compatible modules.

VESA Mount Capability
The slim DS57U meets international VESA mounting standards and is capable of mounting to the rear of a LCD monitor or a TV.

Support Power on by RTC
Enter BIOS to set up the Power on by RTC function that allows you to set a time to boot up the computer and to turn off with the Windows task scheduler. This feature means saving electricity and energy as well as eliminating the cost of on-site service.

The Watchdog--Protecting System Security
Use Shuttle's Watch Dog utility to maintain normal operation and stability of the system at all times.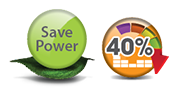 Energy-saving
The exclusive integration low-power consumption design and fan-less cooling, the DS57U runs only 65W adapter in full use and can keep stable for long-time operation; Compared with traditional PCs, a nearly 40% noise reduction during the operation-- ideal for noise sensitive environment like hospitals and libraries.
Easy Installation
The DS57U is designed for easy configuration. Simply remove two screws to complete installation of memory module, storage, and other hardware components.
Multiple Operating System Support
- Windows 7
- Windows 8/8.1
- Linux