DS81L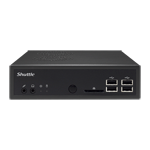 High-performance 12V Slim PC for commercial application
Featuring the all–new DS81L, a more energy efficient version of the DS81 made for automotive and robotics application. The DS81L features the same support for high-performance processors, including Intel's 4th generation Core, Pentium, and Celeron 65W series, but with lower power consumption. It runs on a mere 12 Volts and consumes a maximum of 84Watts while it's older brother, DS81 runs on 19V and consumes a max 90Watts. The difference in energy consumption is essential for commercial applications that require long-term operation. The system memory supports dual-channel DDR3 1600 with maximum capacity up to 16GB and is able to deliver 4K Ultra HD video content depending on the CPU.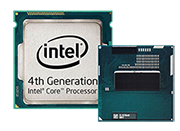 Support Intel® 4th generation Core™ processor
The DS81L is equipped with Intel® H81 Express Chipset. The new LGA 1150 socket supports Intel® fourth-generation Core™ i3/i5/i7 series 65W processors. The system supports dual-channel DDR3 1600 memory with a maximum capacity up to 16GB. The CPU integrated Intel® HD graphics 4600 core* is compatible with DirectX11.1 to deliver significantly increased processing and graphics performance.
*graphic core may vary depending on CPU

12V & Low power consumption
Made for automotive and industrial robotics application, the DS81L runs on a mere 12V and uses a maximum of 84W whereas the DS81 runs on 19V and uses a max 90W.

Support 4K Ultra HD
The DS81L provides video output Display ports to support 4K high resolution (3840x2160). Now with four times the resolution of Full HD, viewers can enjoy the super detailed and crystal clear imaging of 4K.

Slim design and Easy assembly
The DS81L features a 1.3-liter slim design and body thickness of only 43mm, making it well-suited for diverse commercial applications. The DS81L has few cables and no daughter board . It features easy assembly as well as enhanced thermal efficiency and system stability due to increased airflow.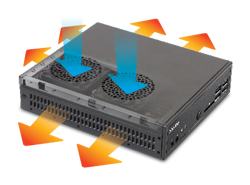 Heat pipe cooling technology
The DS81L features Shuttle's exclusive heat pipe cooling module with smart fan design. The precise vent design allows for constant air circulation between the inside and outside of the machine, resulting in high stability and low noise for long-term operation. The DS81L adopts ball bearing fans for longer life span than traditional sleeve bearing fans.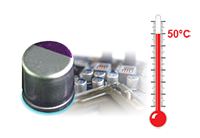 Industrial Solid Capacitors = High Stability
The DS81L uses industrial capacitors in order to meet the environmental operation demands of commercial applications. Its rugged design allows for 24/7 stable operation over long periods of time in 0-50⁰C environments*.
* With use of SSD and Wide Range Temp. SODIMM

Dual-screen display output
The DS81L provides two display ports and one HDMI video output. Users can choose dual-screen display by HDMI + Display port or Display port + Display port configurations. An adaptor can be used to convert Display port to HDMI or DVI port to diversify signal selection and provide the options of dual monitor or standalone display.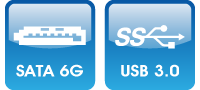 High speed transmission interface
Increase system efficiency and save time on data transfer time. The DS81L is equipped with the latest Intel H81 Express Chipset and supports SATA 6Gbps high speed storage interface and USB 3.0 ports. SATA 6Gbps has twice the transfer rate of SATA 3Gbps; USB 3.0 (support up to 5 Gbps of bandwidth) provides 10 times the data access speed than a USB 2.0 port.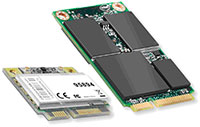 Built-in 2x Mini PCIe slots
The DS81L features strong expandability with one full size and one half size Mini PCIe slots. This compact system can support mSATA SSD and WIFI modules, among other compatible modules.

Great connectivity
With four built-in USB 2.0 ports at the front panel, two RS232 ports (one RS232 and one RS422/RS485) and two USB3.0 and USB2.0 ports at the rear panel, the DS81L can easily connect to peripherals such as thermal printers, label printers and bar code scanners. It offers a wide range of vertical applications. An adaptor can be used to convert RS232 to USB port for supporting more devices.

24/7 Certified
Approved for 24/7 operation, the series uses smart fan and heat-pipe technology to keep things cool for extended periods of operation.

Support Dual Gigabit LAN
The DS81L features Dual Gigabit LAN to support 10Mb/s, 100 Mb/s, 1000 Mb/s transfer capacity as well as Wake On LAN and Teaming Mode functions. Connect to a single network using two cables at once with an appropriate switch (teaming mode with load balancing or failover function) or to two different networks depending on the needs of the user.

Support Power on by RTC
Enter BIOS to set up the Power on by RTC function that allows you to set a time to boot up the computer and to turn off with the Windows task scheduler. This feature means saving electricity and energy as well as eliminating the cost of on-site service. With Power on after Power failure function, the DS81L will automatically reboot in the event of a power supply interruption.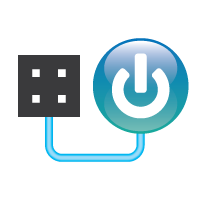 External Power button
The external power button is key for vertical applications where the power on button is often out of reach. The DS81L has a power-on from remote line feature, enabling users to power on from a separate location. Users can find four-pin-connector at the back panel of DS81L. In addition, this connector also provides the Clear CMOS function. Without opening the chassis, users can reset the BIOS settings.
The Watch Dog
Watchdog Timer provides excellent security protection for systems that need to operate continuously for a long period of time. Use Shuttle's Watch Dog utility to maintain the normal operation and stability of the system at all times.
VESA Mount Capability
The compact 43 mm thick DS81L has multiple screw holes specially designed on the side of the machine. The design is VESA mount compliant and allows for versatile integration into hardware systems. This space saving capability is well-suited for application of digital signage with limited space.
Multiple Operating System Support
Window 7
Window 8.1
Linux