HR70
A Safe and Flexible Facial Recognition Solution
Focusing on the vertical applications market, Shuttle has released the HR70, its latest facial recognition system in the field of biometrics. This system incorporates an all-in-one chassis design and a user-friendly operation interface to provide seamless, non-invasive, non-contact, intelligent facial recognition functionalities. The HR70 is equipped with a high-performance dual core processor that enhances recognition processing speeds and provides highly accurate recognition capabilities. The system features built-in dual Full HD cameras and LED supplement lighting that can perform biaxial facial recognition up to ±15 degree angles. The system can operate accurately even under low-light conditions. Simultaneously, the system is equipped with numerous I/O interfaces (i.e., RS232, RS485, and GPIO) that can be used to connect various external peripherals for expanded system operations. Thus, the HR70 is the optimal attendance or access control solution for general companies, government units, financial institutes, education departments, and communities and residences.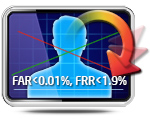 Rapid and Precise Recognition Capability
The HR70 is powered by a high-performance dual core processor to effectively enhance its database search and facial recognition processing capabilities. Users only have to wait for a few seconds for the recognition process to complete. Regarding its recognition success rate, False Acceptance Rate (FAR) testing results show a value of less than 0.01% and False Rejection Rate (FRR) testing results show a value of less than 1.9%. These results confirm the high speed and accuracy of the HR70's recognition capabilities.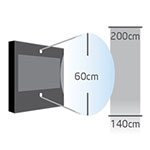 Full HD Dual Cameras
The HR70 is integrated with 2*2M pixel Full HD cameras, located on the upper and lower sections of the display. The system can perform biaxial facial recognition up to ±15 degree angles. In addition, at a distance of 60 cm, the system demonstrates a recognition range of ±60 cm (approximately 140 to 200 cm), allowing clients to configure the system according to specific requirements.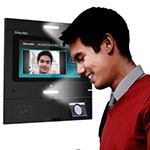 Accurate Operation in Low-Light Environments
The HR70 features an LED supplement light that can be used in low-light conditions to maintain accurate facial recognition capabilities. Users can freely activate or deactivate the supplemental lighting according to the lighting conditions of the environment.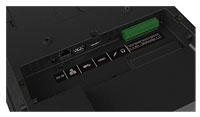 Numerous Interfaces for Diverse Applications
To provide diverse system application capability, the HR70 features numerous built-in I/O interfaces (i.e., RS232, RS485, and GPIO) that can be used to connect related peripherals. Of these interfaces, the GPIO interface can be used for access control solutions, allowing users to rigidly control the access to their residences. This interface can further be integrated with VIP membership control mechanisms to provide optimal services.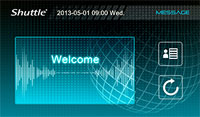 Customized Operation Interface
The HR70 provides Web Service API and SDK, which facilitate SI clients to customize the various designs of the operation interface to suit their application needs (e.g., buttons, background, and function field configurations). Clients can even add or remove functions depending on actual usage conditions.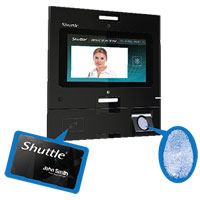 Fingerprint Identifier and RFID Card Reader
In addition to facial recognition functionalities, HR70 also includes fingerprint identifier or RFID card reader. These peripherals further enhance the system into a bi- or tri-functional identity recognition system, achieving even greater protection.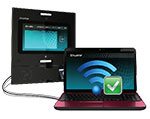 Facilitate System Maintenance
The HR70 features a built-in 10/100/1000 Mbps Ethernet network interface (or selectively purchase the optional IEEE 802.11b/g/n wireless network function). The system supports wake-on-LAN functionality, enables remote data transfer, and saves maintenance labor, time, and costs.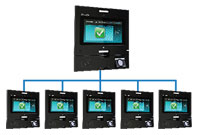 Multi-Sync Capability
The HR70 can operate individually or in a group depending on environment requirements. Under group operations, the HR70 systems can be set to master or slave, and automated synchronization times can be configured. After the systems are configured, the registration of any HR70 system will automatically synchronize data to other HR70 systems. This multi-sync capability is beneficial to business that possess numerous branches, institutional departments, or any commercial building that requires multi-location management, providing clients with convenient management and efficient access control.