K45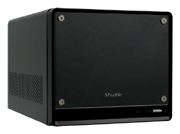 Korporate Perfect Cube
Let's make the world a better place. Lower electric power spending for your company while reducing the environmental burden! KPC K45 comes as a green cube which consumes very little power and is cost effective. Cut 1/3* of power consumption and save thousands of cash for your corporation. Without a doubt, this is a simpler and easier application! Using MyKover, it takes just 1-minute, 2-clicks and 3-steps to customize your PC and make your work fun!
With Shuttle KPC K45, it's unnecessary to worry about your work while in the office, conference room, call center, reception, tourist centre, computer centre, library, lobby, or home. KPC K45 definitely provides a convenient computer solution for you.
Save Our Earth! Energy Star 4.0 Labeled
Show your environmental consciousness in action! Energy efficient, power consumption and cost reduced, KPC K45 gets the label of Energy Star 4.0, which means that it definitely helps you save money and protect the environment.
Please link here for the configuration of K45 system test.
Make it green.
As the issue of global warming grows, each resident of our global village has the responsibility to use eco-friendly products to help reduce carbon dioxide. In order for us to support this new Green movement, Shuttle launched the new KPC K45. This new product has an extremely efficient power saving function. Power consumption of a standard PC would usually take over 300W. Even when KPC K45 is in full use, power consumption is only at less 55W. According to last year's sales record, Shuttle sold 3 million products. Based on these numbers, the KPC K45 can help our earth to save 20,743 metric tons of carbon dioxide emissions. That is equal to cultivating 1,728,583 trees for the environment (based on the Bureau of Energy, Ministry of Economic Affair's official conversion information). All KPC components follow strict standards of RoHS. This is Shuttle's effort in saving our earth and our next generation.

To reduce the environmental waste, KPC K45 consumes low power. Only 30W power is consumed when you take a break, and even at its peak, 55W less power is consumed when you work. Cut 1/3*1 power consumption and save thousands of cash for your company fund.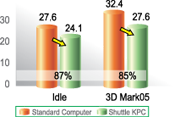 Quiet
The KPC K45 produces less than 28dBs*2 than the standard cooler which is lower than the library. 12%-15% acoustic will definitely be improved which offers a better solution for cooperate and home.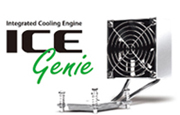 ICE™ Genie
ICE™ Genie*3 dissipates the heat away from the CPU and HD. The implementation is simple and easy. The thermal in the CPU zone would be improved at least 10% and almost 30% in HD zone by using a quiet and stable magnetic-levitated fan. The specially designed copper tubes, which are coated in nickel to enhance tube hardness and protect against rust, are filled with distilled water, and effectively channels heat away. ICE™ Genie brings low power consumption, and allows the system to work efficiently while saving energy.
Easy
KPC K45 is affordable for daily office computing and sharing requirements. Customers and colleagues will be happy to see your presentation file and CD/DVD movies though the sharing with a central system. The USB and extensive I/O provides effortless expansion such as for , Internet, PDA, mobile phone, Bluetooth, WiFi, MP3 player, printer, DVD RW, and external hard drive.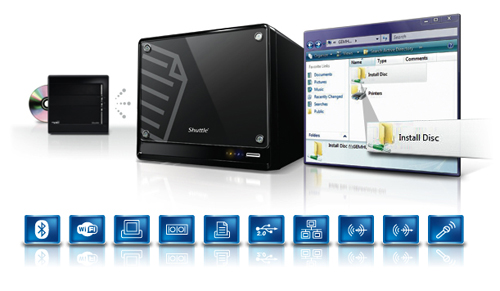 MyKover
MyKover makes it fun. Black and white or blue and red? Add customized images and colorize your office work. Choose between minimalist white, mysterious black, gentle blue and sunshine ruby.
Just 1-minute, 2-clicks and 3-steps to change your mood easily! Create a stunning look by inserting your memorial photos behind the crystal panel or download panel images from Shuttle's website directly.
Download more images
*Note:
1. This figure comes from the comparison with equal specifications - Intel Celeron 420, DDR2 512MB x 1, and 250G HDx1.
2. The result is based on the configuration of Intel® Core™ 2 Duo E6600, DDR2 512MBx2, and 160G HDx1.
3. For K45B, K45W, K45L, and K45R models only