KHS SERIES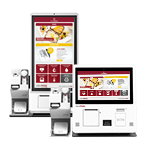 Smart Health Station
The Smart Health Station is a thoughtful and all-in-one self-service solution that integrates advanced computing technologies and hardware peripherals compatible with Rossmax's Bluetooth health monitoring devices and cloud App to provide body fat scale, blood pressure test, blood oxygen measure, blood glucose meter, and temperature measurement. The Smart Health Station can be placed in pharmacies, clinics, hospitals and other public places.
Feature
1080P FHD, PCAP 10-point multi-touch screen with 27" and 15.6" options
Sturdy and robust SPCC metal enclosure
4-in-1 Rack and Multiple mounting supports: Freestanding, Desktop, Wall mount
Integrated 2D scanner, receipt printer, Smart Card Reader, NFC reader, Webcam for self-service applications
Combines Blood Pressures Monitor, Blood Glucose Meter, Pulse Oximeter, Thermometer, Weight and Body Fat Scale
Android 8.1
Slideshow display for delivering brand message and information
Health Check-up App and management
Coupon content setting

Peripheral Equipment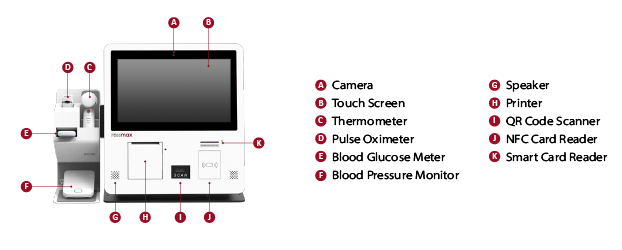 Applicable Scenarios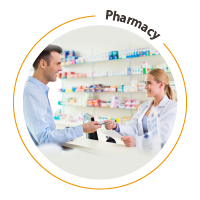 Pharmacy
When a pharmacy store installs this Smart Health Station, it can enhance the pharmacy-to-customer engagements via the health check service. The pharmacy staff can help users understand their health test data and further provide health promotion services.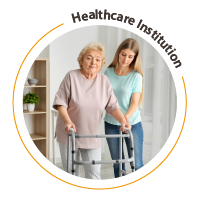 Medical/Healthcare Institution
The Smart Health Station enables patients to independently measure their own vital health indicators at the point of care or the waiting room. The results will be printed after the measurement for discussing with the doctor during the consultation hour. That can make the patient's waiting time with more efficient use, enhance the experience, and reduce the workload for the nurses.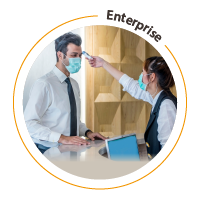 Enterprise
For great workplace productivity, a healthy workforce is vital. The Smart Health Station is an efficient and simple-to-use tool. Placing it in the workplace allows your employees to easily measure and check key health metrics, including blood pressure, blood glucose, BMI, blood oxygen, and temperature. The company's HR can actively plan suitable wellness programs and activities to encourage workforce health promotion.
Also, an advertising promotion tool
The Smart Health Station combines the Full HD Touch panel and printer. It can display attractive, colorful digital slides to deliver a brand message and health information; the printed receipt can add the QR code and coupon information.