NC03U SERIES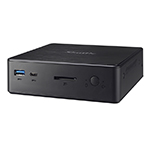 Small size, full-featured Mini PC with new Kabylake platform
The XPC nano is Shuttle's smallest product lines with only palm size. Shuttle's NC03U series supports Intel® Kaby lake-U platform technology. The NC03U series includes four different embedded CPU options with Celeron®, Core™ i3, Core™ i5, and Core™ i7 and has two DDR4 SODIMM slots to support a maximum of 32GB. With built-in Intel® HD graphics series allows these ultra-compact machines to have ample performance for playback 4K/Ultra HD at 60Hz via HDMI and DisplayPort. Same as the NC02 series, a new mechanism design allows for easy installation of memory modules and storage and the case can accommodate one 2.5" HDD (up to 15mm) to provide a more flexible storage capacity. Despite its small size, the NC03U series with full PC experience has a great connectivity with multiple I/O ports-- USB3.0 (Type A*1, Type C*1), USB2.0, RS232, and built-in SATA 6G and M.2 high speed storage interface. Its small and elegant design makes this series as a portable mini PC fit for home, office, POS, and even Digital signage.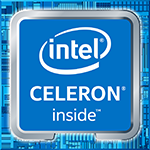 Support Intel® Kaby Lake-U platform technology
The NC03U series supports the new Intel® Kaby Lake-U platform technology and provides a variety of CPU options of NC03U series, including Celeron® 3865U and Core™ i3/i5/i7 processors. The series features support for up to DDR4-2133 32GB memory and built-in Intel® HD Graphics, able to deliver 4K video playback.

Support 4K Ultra HD
The NC03U series is built-in HDMI and DisplayPort video outputs to support 4K high resolution (3840x2160). Now with four times the resolution of Full HD, viewers can enjoy the super detailed and crystal clear imaging of 4K.
**Recommended dual-channel memory for 4K playback.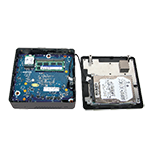 Support up to 15mm 2.5" HDD
The NC03U series uses new mechanism design. This series case can install up to 15mm (7/9.5/12.5/15mm) 2.5" HDD to provide its more flexible storage capacity without volume restriction.

Support dual-screen display outputs
The NC03U series provides HDMI and DisplayPort video outputs to support dual-screen displays. Use an adaptor to covert HDMI to DVI interface and DisplayPort into HDMI or DVI interface for diversified signal selection.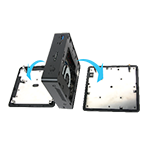 Easy installation
The NC03U series is designed for easy configuration. Users can simply open both upper and lower covers to easily install memory module, HDD, and other hardware components.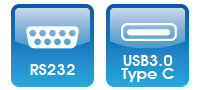 A variety of I/O for great connectivity
The NC03U series has all the functions you need from ultra SFF (small form factor). Connect with multiple peripherals via HDMI, DisplayPort, RS232, USB2.0 and USB3.0 as well as SD card reader. This series is the first Shuttle's model with built-in USB 3.0 Type-C. Unlike older USB plugs, there's no up or down orientation required so users can insert it either way for more convenience.

High-speed storage interfaces
The NC03U series supports SATA 6G storage interface for 2.5" HDD (up to 15mm slim) and built-in one M.2 slot for high-speed M.2 SSD, proving the best data transfer efficiency.

Exclusive cooling technology
Made with Shuttle's exclusive cooling technology and smart fan design, waste heat is quickly removed from the machine for stable and long-term operation.

Support wide temperature operation- High Stability
The NC03U series uses high quality materials to meet the environmental operation demands of commercial applications. Its rugged design allows for stable operation over long periods of time – even in 50⁰C environments*.
* With use of SSD and Wide Range Temp. SODIMM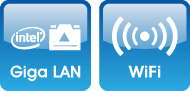 Wire and Wireless High-speed Networks
The NC03U series has built-in Intel®10/100/1000 Mbps LAN interface to provide a better compatibility for business network environment. With a built-in IEEE 802.11 b/g/n wireless network module, provide high-speed wireless data transmission.

VESA mount ready
Designed to fit seamlessly into your lifestyle, the NC03U series is capable of mounting to the rear of LCD monitor or a TV. This space saving capability makes it easy to blends into anywhere, including home, any offices, and commercial environments.

Support Wake On LAN
Use BIOS to set up the Wake ON LAN function so that users can turn on the NC03U series – from the sleep mode, rest mode, or when powered off – via the internet.

Supports Power on by RTC
Enter BIOS to set up the Power on by RTC function that allows you to set a time to boot up the computer, which can also be turned on and off with the Windows task scheduler. This feature means saving electricity and energy as well as eliminating the cost of on-site service.
Multiple Operating System Support
- Windows 10
- Linux