NS02 V2 SERIES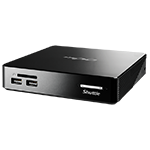 A User-friendly Digital Signage Solution
Shuttle NS02 V2 series is an ARM-based digital signage solution with only a 0.5-liter compact design for fitting almost anywhere in the offices and commercial space for thin-client and digital signage applications. Equipped with an Octa-Core ARM processor, pre-installed Android operating system, and built-in DDR3L 2GB low-voltage memory, this product has a balanced performance in terms of budget, reliability, and low power consumption. Featuring with HDMI 2.0, 4x USB, Gigabit –LAN, WiFi AC+BT 5.0, a built-in SATA storage interface, and an SD card reader to easily connect to various peripheral devices for different kinds of application. Furthermore, the NS02E V2 supports the Power over Ethernet (PoE), enabling it to be powered over the existing network cable to reduce the cost of deployment of separate power cable, AC outlet, and adapter. In addition, thanks to Shuttle's digital signage software DS Creator Pro, users can easily schedule and dispatch the digital signage content to the NS02 V2 series through their mobile devices.
NS02 V2 comes in two versions:
NS02A V2: Powerd by the 12V/24W power adapter connected to DC-input
NS02E V2: Powered by the existing network cable without a power adapter needed.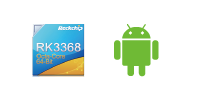 Rockchip RK3368 Octal core A53, 1.5GHz processor
The NS02 V2 series is equipped with Rockchip RK3368 octa-core 1.5Ghz processors and built-in DDR3L 2GB low-voltage memory to effectively reduces the systems' power consumption.
*Optional 4GB memory model
Variety of Internet devices
The NS02 V2 series integrated Gigabit LAN, 802.11 a/b/g/n/ac Wi-Fi, and Bluetooth 5.0 combo. Besides, NS02E V2 supports the PoE function, which means the power is from the PoE injector or the PoE switch hub so that users don't need to install another wire for the adapter.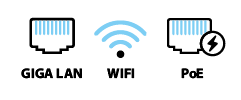 Flexible storage space
The NS02 V2 series has onboard 16GB eMMC and supports one 2.5" HDD/SSD SATA storage interface (7mm ultra-slim) as well as an SD card reader for more storage space.
*Optional 32GB eMMC model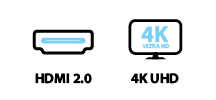 High-performance display
The NS02 V2 series support 4K ultra HD video output and HEVC/H.265 decoder by 4k@60FPS, 100Mbps bit rate. The HDMI 2.0 provides 1080p@120Hz and 4K@60Hz HDTV display resolutions.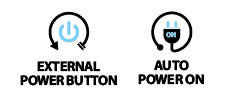 Auto power on/External Power button
The NS02 V2 series has a thoughtful design on the system boot to make field maintenance more convenient. After all, many devices are installed in places where hard-to-reach. Thus, the NS02 V2 series supports the system's automatically power-on once power is applied through AC or Networking. And with the understanding of the diversification of vertical applications, there is an external power button at the back of the machine that supports power-on from a remote line feature, enabling users to power on from a separate location.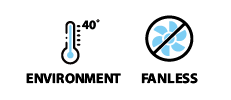 Fanless and Operable in 0-40 ⁰C
The NS02 series is equipped with a fanless design to reduce the power consumption required by a fan as well as the cost of replacing fans on-site, ideal for noise-sensitive environments. Furthermore, this system allows stable operation in 40 ⁰C environments over long periods.

Simple digital signage application
The NS02 V2 series comes pre-installed with Shuttle digital signage software DS Creator Pro allows users to upload digital signage content such as scrolling text, pictures, videos, and website links to the NS02A/E V2 via smartphone or tablet devices. Connecting happens using WLAN with the local network.

VESA mount ready
The NS02 V2 series meets international VESA mounting standards and is capable of mounting to the rear of an LCD monitor or a TV. This space-saving capability makes it easy to blends into commercial environments.