P51U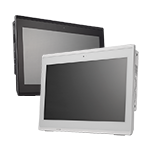 15.6" Versatile, Multi-touch AIO for POS, POI, and Kiosk
The P51U is a fanless, versatile all-in-one PC with 15.6" multi-point touchscreen and narrow bezel design. It is equipped with the Intel 8th Gen U-series processor, which provides outstanding performance while achieving better energy efficiency. Combined with a capacitive touchscreen offering precise 10-point touch response and Full HD, 16:9 widescreen LCD, the P51U meets the demand of interactive applications. It also provides a variety of peripherals such as POS, NFC, and 4G LTE module for seamless integration. With the passive cooling and IP54 front panel, the system runs exceptionally quiet and stable for 24/7 operation. Alternatively, an optional SKU with built-in battery provides additional backup power and improves the portability of your application.

15.6" Narrow Bezel Display
The P51U combined a new narrow-bezel design with a Full high-definition and 15.6" 16:9 widescreen, making it particularly suitable for diverse display applications.

Up to 10-Point Touch Capability
With a capacitive touchscreen that supports 10-point touch capability, the P51U delivers a responsive and highly accurate multi-touch recognition. Even glove-operation can be supported.

Intel® 8th Generation Processors
The P51U is powered by the 8th Generation Intel® Celeron® ULV processor (Whiskey Lake-U) and with built-in memory controller as well as integrated UHD graphics to provide better system efficiency and graphics performance.
*Core i3 / i5 processor options available.

IP54 Protection
The P51U's front panel is IP54 certified for water and dust resistance, conforming to environmental specifications for industrial and commercial applications.

Triple Display Productivity
The P51U can be connected to two external displays via built-in HDMI and VGA outputs, providing productivity benefits for different content playback. For example, you can set up a second or third display for promotional use.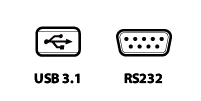 Feature-rich Connectivity
The P51U includes a rich set of connectivity for a wide variety of applications, including two COM ports (RS232), four USB 3.1 Gen 1 ports, and two USB 2.0 ports.

Flexible Expansion Options
The P51U offers multiple expansion options to integrate diverse peripherals and to allow diverse applications, including the COM/RJ11 board (POS03), NFC module (PNFC03) and 4G extension kit (WWN02). Use P51U allows you to expand your solution by adding what you need.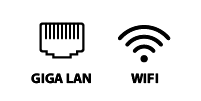 Wired and Wireless Networks
The P51U features the Intel® Gigabit network interface for high-speed LAN connections. It also has a built-in IEEE 802.11 a/b/g/n/ac+BT4.2 wireless network module to provide high-speed wireless data transmission.

Always in Power
The P51U provides an optional SKU with a built-in battery that supports up to 7 hours of runtime in case of an unexpected power outage, and also makes this model more portable and convenient around your workplace.

Silent, Fanless Design
With a passive thermal cooling design, the P51U allows the 24/7 operation not only quiet but also low in energy use and virtually maintenance free.

Operable in 0-40⁰C
The P51U uses industrial capacitors to meet the environmental operation demands of commercial applications.
*With the use of SSD and Wide Range Temp. SODIMM

VESA Mount Ready
The P51U is VESA mount compliant and allows for versatile integration into hardware systems. This space-saving capability is well-suited for commercial applications with limited space.

Support Power on by RTC
Save energy costs as well as the cost of on-site service with Power-On by RTC function. Set automatic 'Power On' and 'Power Off' times by RTC via BIOS. Power on by RTC can also be turned on and off with the Windows task scheduler.

The Watchdog
Watchdog Timer provides excellent security protection for systems that need to operate continuously for a long period of time. Use Shuttle's Watch Dog utility to maintain normal operation and stability of the system at all times.
Operating System Support
- Windows 10 64bit
- Linux