P90U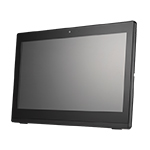 Fanless All-in-One PC Solution with 19.5" Multi-Touch Display
Highlight with a larger 19.5-inch screen, this particularly designed All-in-One P90U is the latest addition to the Shuttle AIO family. The P90U is equipped with an Intel® Core™ i3/i5/Celeron® processor, fanless cooling system and multi-touch 16:9 screen, making it ideal for DOOH advertising, interactive digital signage or other retail applications. It provides HDMI and VGA interface to connect with two monitors and features a 2M pixel webcam for video conference. Thanks to its IP54 compliant front panel, the system is dust-protected and protected from splashing of water. Flexible options include RS232 and parallel port expansion cards (PCL71/ POS01), NFC kit (PNFC02), and 4G antenna kit (WWN02) make it easier to integrate with peripherals to extend the functionalities for diverse applications.

19.5" Multi-touch Screen
With a large 19.5-inch panel and 10-point capacitive touchscreen*, Shuttle's P90U all-in-one makes it easier for customers to design, develop and deploy their interactive Kiosk, digital signage and POS solution with a more user-friendly interface.
*The platform comes with the option of non-touch screen version.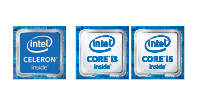 Intel® Core™ i5/i3/Celeron® Processors
The P90U supports the Intel® Kabylake-U platform technology. It is equipped with an Intel® Core™ i5/i3 or Celeron® dual-core processor with max TDP of 15W, memory frequency support for up to DDR4-2133, and built-in Intel® HD Graphics to play 4K content (HDMI only).

IP54 Front Panel Protection
Equipped with a flat touchscreen, the P90U's front panel is IP54 certified for water and dust resistance, conforming to environmental specifications for industrial and commercial applications.

Triple Display Productivity
The P90U can be connected to two other monitors via built-in HDMI and VGA outputs, providing productivity benefits for different content playback. For example, you can set up other two displays with promotional contents to capture customers' attention.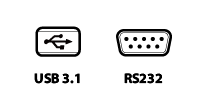 Excellent Peripheral Connectivity
With two COM ports (RS232), two USB 3.1 Gen 1 ports and four USB 2.0 ports built-in, the P90U provides high-speed connectivity to work with peripheral devices such as barcode scanners, receipt printers, cash drawers, and many more.

Full Expansion Options
The P90U is a full-fledged AIO with multiple expansion options, including RS232 and parallel port expansion cards (PCL71/ POS01), NFC kit (PNFC02), and 4G antenna kit (WWN02). With a variety of choices in between, the P90U allows you to customize solutions catering to the needs.

Silent, Fanless Design
With a passive thermal cooling design, the P90U allows the 24/7 operation not only quiet, but also low in energy use and virtually maintenance free.

Operable in 0-40⁰C
The P90U uses industrial capacitors in order to meet the environmental operation demands of commercial applications.
*With use of SSD and Wide Range Temp. SODIMM

VESA Compatible
The P90U is VESA mount compliant and allows for versatile integration into hardware systems. This space-saving capability is well-suited for commercial applications with limited space.
Operating System Support
- Windows 10 64bit
- Linux