PF27(VFD PANEL UPGRADE KIT)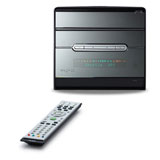 VFD Panel Upgrade Kit
Intelligently designed and integrated, this multi-modal VFD panel serves as a secondary display when playing media in Microsoft Windows Media Center. The idea behind this display is to improve media delivering DVD, TV and video track information to the front display that does not interrupt viewing pleasure. For example, when watching TV, the VFD will display the TV icon, channel as well as volume information. Using XPC Tools, you can set the VFD to display your systems ergonomic information. Fan speeds, CPU and system temp can all be displayed. While you are busy gaming or enjoying other cool applications with the XPC, it allows for easy system management and control.
Intelligently designed and integrated
Exquisite VFD panel, the perfect combination of technology and fashion.
Elegant black/ silver panel can satisfy all your different need.
Collocated with MCE remote control, it will be the best helper in your digital life.