PF50(DISPLAY2GO BAG)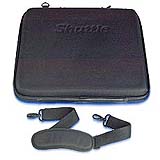 PF50 Display 2GO Bag
The Display 2 Go bag is specially designed to accomodate all movements with XP17 Flat Panel. It protects your display, and can be carried in three different ways.
- Molded (Hard shell) panels with full zipper opening, protects XP17 Flat Panel Display inside.
- Fix XP17 Flat Panel Display inside the bag with neoprene band and Velcro.
- Inner mesh pockets provide storage room for accessories.
- Detachable shoulder strap.
- Hidden webbing handle.
- A neoprene pad is attached to provide comfort when carrying on monitor handle.