SA76R4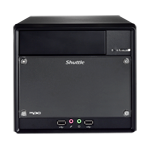 Power and Performance, Nicely Done
The Shuttle SA76R4 presents you the best value in high definition computing without sacrificing performance by AMD Athlon AM3 95W CPU platform. It supports the on-board dual display technology with D-sub & DVI-D, Discrete VGA card, USB 3.0 ports, and is compatible with Mini-ITX from factor Mainboard. An additional feature is provided by the Mini PCI-e Interface which can be used for various applications such as SSD, WLAN module. The R4 front panel allows customized panel with a removable acrylic plate. The SA76R4 is perfect for everyday computing at home or office use for any daily works and open access.

Supports AM3 95W CPU
Transform your SA67R4 system into a digital media powerhouse by operating the AMD Athlon™ II processor with the support of socket AM3. Delivers a stunning visual experience in a power-efficient and stable platform.

Mini-ITX Mainboard Support
Shuttle expands the capabilities of its chassis, adding support for Mini-ITX mainboards (17x17 cm or 6.7x6.7 inches). Shuttle chassis go beyond the Shuttle mainboard, so you can easily upgrade the mainboard to your desire without any modifications to the chassis.

Superior Speed of USB 3.0
The SA76R4 comes with two USB 3.0 ports situated on the back I/O. With greater demands for transferring larger files at faster speeds, USB 3.0 promises to be a welcome improvement from 2.0 technology. For external enclosures using USB 3.0, it would reduce backup times considerably, improving productivity and efficiency.
The SurroundView technology supports up to 4 monitors
This technology supports the connection of multiple monitors for up to 4 monitors with discrete VGA graphics card. It can be connected onto the supported video output ports (DVI-D and D-Sub port) to provide more flexibility. The SA76R4 also supports full HD 1080p Blu-ray technology that makes it a budget PC while enjoy the benefits of multifunction.
Customizable Front Panel
The SA76R4 includes a customizable front, with endless design and décor possibilities for home and business users. You can decide the design of the panel to your own wishes. The SA76R4 comes with a removable acrylic cover to make this possible. Any design that you want can be placed behind it. Whether a company logo, administrative data or your favorite photo –let your creativity begins, the options are virtually unlimited.
Expansion Capability
The Shuttle XPC Barebone SA76R4 comes with a Mini PCI-e slot which provides an easy way for users to add an internal device such as a wireless card to enable a wireless internet connection in no time.