SB51G (NEON-EDITION)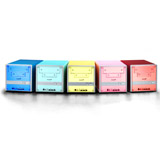 Colorful Neon Basis, Brilliant Performance
Bring XPC SB51G with 5 stylish neon colors. With dark blue, light blue, yellow, pink, and red chassis, the perfect basis to build up a powerful and versatile XPC system that fulfils individual styles.
Your style is served!
XPC SB51G is made of aluminum, covers with neon color, you can freely choose any color depending on your way of life or work.