SB62G2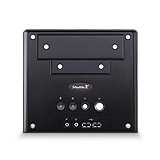 Serve it style!
Shuttle's SB62G2 is the perfect platform for you email, file or web server. This small form factor (SFF) computer ships with Mandrake Linux bundled in the box. This powerfully stable and affordable SFF computer shatters the notion that a high-performance computer must be large to be fast.
"It is hard not to see the XPC SB62G2 as a piece of art — it works so well in such a small amount of space," Tim Butler, editor, Open For Business.
The XPC SB62G2 is an ideal: High-performance workstation, LAN-gaming computer, SOHO mail, file server, Linux workstation, server!
Smooth and stylish networking
The XPC SB62G2 delivers all of the power and performance of a networking workstation in one-third the space. Designed to deliver powerful and affordable networking, this small form factor computer is ideal for managing all your files, networking and SOHO solutions.

Awesome memory — awesome power
This bleeding-edge Intel® 865G-based small form factor (SFF) computer supports 800MHz FSB Pentium® 4 Pentium® 4 processors, dual-channel DDR400 memory and wicked-fast Serial ATA RAID. Further, its P-BIOS with turbo mode-enhanced memory performance and robust overclocking features let you control the memory performance according to demand.
Wired for performance
Built-in USB 2.0 and SPDIF digital audio ports make it easy to get digital media — video, photographs, music — into this lightening fast SFF computer. Then share it all with your friends and family via the dual integrated 10/100 LAN ports or optional 802.11b WLAN — experience the ultimate in high-bandwidth networking.
Advanced ergonomics
Shuttle's proprietary Silent X technology makes the XPC SB62G2 Super Quiet, Super Cool. With advanced Integrated Cooling Engine technology, intelligently-engineered airflow mechanics, the XPC SB62G2 makes serving up your files and networking solutions in the office or home so easy.