SB75G2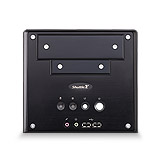 Move up to the SB75G2!
Shuttle's most-advanced Intel-based small form factor (SFF) computer, the SB75G2. Built from the ground up provide uncompromised performance, this XPC is an excellent choice for gamers and enthusiasts. With advanced cooling and performance features, the XPC SB75G2 is fast — really fast.
"For those of you with older XPC or other SFF systems, the SB75G2 is [the] only choice if you're looking for the pinnacle…" — Adam Traidman, editor, SFFTech.com.
The XPC SB75G2 is an ideal: LAN-gaming computer, Desktop replacement, Home gaming center, Great overclocking platform!
Move up to the SB75G2!
The XPC SB75G2 delivers all of the power and performance of a desktop in one-third the space. Put one on your desktop. Go mobile at the worksite or LAN party. Wherever you are, this is the most-powerful Intel®-based SFF computer available.

Awesome memory — awesome power
This bleeding-edge Intel 875P-based small form factor (SFF) computer supports 800MHz FSB Pentium® 4 processors, dual-channel DDR400 (ECC) memory and wicked-fast Serial ATA RAID. Further, its PAT-enhanced memory performance and robust overclocking features let you push the XPC SB75G2 to the limit.
Wired for performance
Built-in FireWire® 400, USB 2.0 and SPDIF digital audio ports make it easy to get digital media — video, photographs, music — into this lightening fast SFF computer. Then share it all with your friends and family via the integrated gigabit LAN or optional 802.11b WLAN — experience the ultimate in high-bandwidth networking
Advanced ergonomics
Shuttle's proprietary Silent X technology makes the XPC SB75G2 Super Quiet, Super Cool. With advanced Integrated Cooling Engine technology, intelligently-engineered airflow mechanics and revolutionary Silent X 250W power supply, putting the XPC SB75G2 in your living room, bedroom or office is a natural.