SB77G5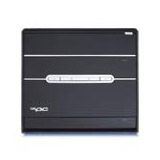 XPC SB77G5 - Built for extreme-performance
Shuttle Inc, the leading designer and manufacturer of small form-factor (SFF) computers and accessories, is proud to announce the XPC SB77G5. This high-performance SFF computer joins our industry-best XPC product-line as an upgrade to the extremely popular SB75G2, and the first 875P-based SFF computer to support LGA 775 CPUs and 8X AGP cards.

Supporting Pentium 4 LGA 775 processors
"The XPC SB77G5 once again demonstrates Shuttle's ability to deliver cutting-edge hardware for high-demand environments," said Jonathon Yi, VP product management, Shuttle Supporting Pentium 4 LGA 775 processors and 8X AGP graphics cards, this extreme barebone is excellent value."
Unmatched Performance and Stability
With Intel's memory optimizing Performance Acceleration Technology (PAT), Serial ATA with RAID and performance-enhanced ECC dual-channel DDR400 memory, Shuttle's latest XPC, offers unmatched performance and stability. Further, the SB77G5 also supports 800MHz FSB LGA 775 processors, Gigabit Ethernet and Intel's Hyper-Threading performance boosting technology.
Enclosed in the Fresh Look G5 Case
Enclosed in the fresh look G5 case, the SB77G5 features three stylish stealthed drive and port bays for smooth integration in the living room, dorm or office. The XPC SB77G5 also comes to market with an all-new ICE (integrated cooling engine) heat-pipe module (92mm fan), improved smart-fan control and advanced airflow mechanics making it one of the coolest, quietest SFF computers.
Excellent Expansion Functionality
Additionally, this model's built-in storage and I/O functionality are likewise top shelf with FireWire 400, USB 2.0 and digital audio (SPDIF I/O and coaxial O) ports!Xall standard features and excellent expansion functionality with open 8X AGP and PCI slots, as well as bays for one 5.25-inch optical and two 3.5- inch (hard and/or floppy disk) drives.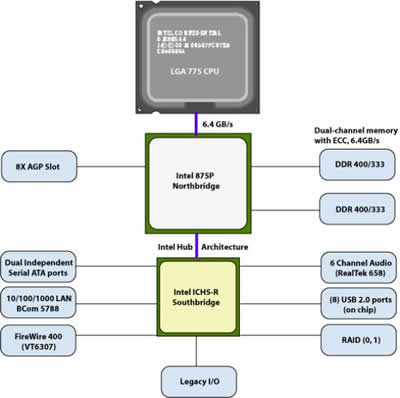 Intel 875P + ICH5-R Architecture
Intel 875P NorthBridge
The Intel 875P chipset features support for an 800 MHz Front Side Bus (FSB) and implements Intel Performance Acceleration Technology (Intel PAT) with dual-channel DDR 400 memory configurations to get incredible performance from the memory interface. Optimized to support the Intel Pentium 4 Processor with Hyper-Threading Technology, the 875P chipset adds intelligence to help manage and prioritize multiple threads received from the microprocessor.
This 875P chipset-based small form factor features the Intel Communication Streaming Architecture (CSA) offering a Dedicated Networking Bus interface, Hi-Speed USB 2.0, and Serial ATA. An enhanced AC97 audio implementation with dual independent DMA audio engines delivers improved sound quality and new audio usage models. The 875P chipset helps to ensure that tomorrow's most demanding applications will run optimally on Pentium 4 processor-based platforms.
Southbridge integration
The ICH5-R brings excellent I/O capabilities such as 2 Serial ATA headers with RAID striping or mirroring functionality. Further, integrated 6-channel audio delivers 100dB plus surround sound audio, while (8) USB 2.0 ports and FireWire 400 (from VT6207) provide great connectivity.
BIOS Control
The XPC SB77G5 uses an enhanced Phoenix-Award BIOS providing the user with optimum control over performance components. The advanced chipset features, for instance, allows for fully customizable memory timings. Several divisors are available to support RAM that can't handle a 1:1 ratio during tweaked performance.
Other important features of this BIOS include the PC health status section. Here users can adjust Smart Fan settings, choosing the optimum control environment to suit their needs. Further, long-time XPC users will notice that this section has been improved to include noise and temperature control settings.
On the performance-optimization front, the XPC SB77G5 supports a multitude of frequency and voltage controls. The FSB is adjustable in 1MHz increments all the way up to 355MHz. This feature is complimented by a full-palette of DDR, AGP and CPU voltage settings.