SB81P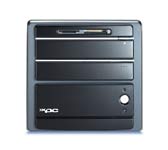 "High-Voltage" Computing
The XPC SB81P destroys the myth that bigger PCs are faster. Designed for power-hungry users, this wicked-fast small form factor (SFF) computer delivers tower-crushing performance in one-third the space. Do everything faster, get the XPC SB81P today!

Leading-edge Performance
Based on the Intel 915G and ICH6-R chipset, the SB81P delivers cutting-edge features and wicked-fast performance. Supporting new to market socket 775 Prescott processors , the 915G chipset will support a fast 800MHz FSB. In addition, this machine is equipped with a dual-channel DDR 400 memory controller and room for two RAM modules. Furthermore, integrated PCI Express x16 interface delivers twice the bandwidth of 8X AGP.

Intel Graphics Media Accelerator 900 (GMA900)
Intel's new integrated graphics architecture raises the bar for integrated graphics. With PCI-E x1 improved bandwidth, GMA900 also features 333MHz graphics core and 32bpp True Color Support for sharper and more detailed images. In addition, DX8/DX9 support and enhanced 3D performance features such as software Vertex Shader and Shadow Mapping mean the GMA900 delivers great 2D performance and key 3D performance.

Southbridge Integration
The ICH6-R brings next generation I/O capabilities such as 4 Serial ATA headers with RAID striping and mirroring functionality. Further, integrated 8-channel audio delivers 100dB plus surround sound audio, while (8) USB 2.0 ports (FireWire® 400 from VT6207) provide great connectivity.

7.1-channel Audio
Delivering significant improvements over previous generation integrated audio and sound cards. 7.1- channel audio is capable of delivering the support and sound quality for up to eight channels at 192 kHz/32- bit quality,while the AC'97 specification can only support six channels at 48 kHz/20-bit. In addition, Intel HD Audio is architected to prevent the occasional glitches or pops that other audio solutions can have by providing dedicated system bandwidth for critical audio functions.