SB83G5C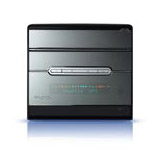 ' Build Your Own Home Theater '--XPC MAX
Power your digital lifestyle with this made to measure ' build your own home theater' or "BYOHT" for short. Included in this powerful package are the tools you need to build you very own home theater, quickly!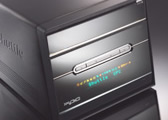 Stunning design
With XPC MAX Home Theater software, integrated TV-tuner card, remote control and Versatile Front-panel Display (VFD), Shuttle's latest SFF creation puts buyers in control. The XPC SB83G5C is the ideal starting point for hobbyists and system integrators looking to create their own media center computers.

Single interface
The XPC SB83G5C with XPC MAX Home Theater software allows you to organize and play digital audio, video and image files. Watch live television or time-shift your favorite TV and internet radio programming--XPC MAX is the perfect way to archive, manage and enjoy everything the digital universe has to offer.
Super-stable
Based on the super-stable, value-enhance Intel® 915G platform with integrated GMA900 graphics, the XPC SB83G5C is a masterpiece of integration. Supporting Intel Pentium® 4 LGA 775 processors and the latest x16 PCI Express graphics cards, this XPC delivers unprecedented power for mainstream buyers. Further, customers can extend and enhance this small form factor computer via built-in Serial ATA RAID, Gigabit LAN, FireWire® 400 and wireless LAN (optional PN15g Wireless LAN Module).
Living room ergonomics
Further, the XPC SB83G5C features the full palette of Silent X technologies: ICE heat-pipe, Silent X PSU and intelligently designed airflow metrics. In the living room, office of bedroom, the SB83G5C delivers "Super Quiet, Super Cool" operation wherever you need it !