SB86I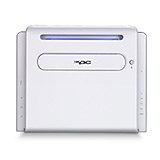 XPC SB86i: A silent approach
This small form factor computer puts cutting-edge performance with silent operation affordably within your reach - in half the space. With highly evolved engineering and design strategies for thermal dissipation, noise minimization, portability and stability, this excellent XPC is one deep cut above.
Power your digital workflow, home media center or games with this high-performance, super-stable Shuttle XPC. And, because the XPC is fully customizable, you can pick the processor, memory, storage and expansion options that fit your needs. Built-in FireWire®400, USB2.0, SD card reader and 8-channel digital audio ports make it easy to get media - video, photographs, music-in and out of this lighting fast computer. Then share it all with friends and family using the excellent integrated networking features - The XPC by Shuttle.

Intel GMA 900 Graphics
Intel's new integrated graphics architecture raises the bar for integrated graphics performance. GMA900 offer a 333MHz graphics core and 32bpp True Color Support for sharper, more detailed http://global.shuttle.com/. Further , industry-first DX8/DX9 support and enhanced 3D performance features, such as software Vertex Shader and Shadow Mapping, mean the GMA900 delivers great 2D and 3D performance.
Southbridge Integration
The ICH6-R brings next generation I/O capabilities such as 4 Serial ATA headers with RAID striping and mirroring functionality. Further, integrated 8-channel audio delivers 100dB plus surround sound audio, while (8) USB 2.0 ports (FireWire® 400 from VT6207) provide great connectivity.
Matrix Storage Technology
The innovation continues with the inclusion of Matrix RAID Technology (USB floppy drive required for installation), which combines the benefits of RAID 0 performance and RAID 1 protection on two hard drives. For example, games and video editing benefit from improved performance, while valuable personal photos and financial records can be better protected from a drive failure.
Clear CMOS
Shuttle's easy-access Clear CMOS button makes it easy to restore BIOS. First introduced in the XPC Zen, this feature has become extremely popular with system integrators and enthusiasts alike.

High Definition Audio
7.1- channel audio delivers eight channels at 192 kHz/32- bit quality. In addition, Intel HD Audio is architected to prevent the glitches or pops of third-party audio solutions.