SB87G5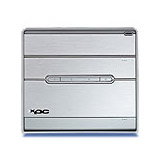 Performance comes home
Encased in the sophisticated G5 chassis, the XPC SB87G5 brings home what other computers in this price bracket cannot, style, ergonomics and low noise operation. Based on Intel's 915PL + ICH6 combo, this XPC supports Intel® Pentium® 4 processors, dual channel DDR (2GB max), x16 PCI-express graphics and up to 2 Serial ATA storage drives. Integrated FireWire, USB 2.0 and gigabit LAN provide all the connectivity options a home user needs, and onboard 5.1-channel sound provides fantastic audio quality whilst keeping the open PCI slot free for future upgrades.

Intel 915PL Express Chipset
Using the Intel 915PL Express Chipset the XPC SB87G5 delivers outstanding system performance through high-bandwidth interfaces such as dual-channel DDR memory, 800 MHz system bus, PCI Express x16 graphics port and PCI Express x1 I/O ports, next generation Serial ATA and Hi-Speed USB 2.0 connectivity.
PCI Express Interface
The PCI Express architecture enables increased bi-directional bandwidth to the graphics and I/O interfaces. With theoretical bandwidth up to 4GB/s per direction, the PCI Express x16 graphics port can provide more than three and a half times the graphics bandwidth over previous high-performance discrete graphics solutions.

Designed to support cutting-edge PCI graphics, the XPC SB87G5 has been tested compatible with most popular graphics cards.
5.1 Audio
The XPC SB87G5 comes equipped with onboard 5.1 audio to deliver high quality sound at no extra cost. Ideal for the home or office, the XPC SB87G5 allows you to enjoy movies, games and music in theater-like surround sound.
Advanced I/O
The XPC offers ample I/O connectivity, and then some. Features, such as the Clear CMOS button and Wireless LAN perforation, are Shuttle exclusives, and not seen in other small form factor computers.
The XPC 's feature-rich back panel is perfectly complemented by an equally rich front panel. With USB 2.0, FireWire 400, earphones, and microphone built into this sexy front panel.