SB95P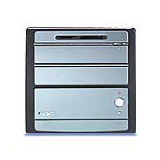 Next Generation Performance
Demanding users need superior performance. The XPC SB95P delivers! Based on the Intel 925X Express chipset, this computer is optimized to deliver exceptional system performance with PentiumR4 processors, dual-channel DDR2 533MHz memory and high-bandwidth PCI-Express graphics cards. Up to three hard drives, 2GB of DDR2 memory, high-definition audio and cutting-edge Matrix RAID Storage Technology deliver better performance and features than systems costing twice as much.

The DDR2 Advantage:
DDR2 is the next-generation evolution of DDR memory technology. DDR2 memory features faster speeds, higher data bandwidths, lower power consumption and enhanced thermal performance.
Key DDR2 features:
1.8 Volts operation, lower power consumption.
On-Die memory Termination" prevents reflected signal transmission errors.
Operational enhancements to increase memory performance, efficiency and timing margins.
400MHZ and 533MHz and capacities up to 1GB.

Intel Matrix Storage Technology
The innovation continues with the introduction of IntelR Matrix RAID Technology, which combines the benefits of RAID 0 performance and RAID 1 protection on two hard drives. For example, games and video editing benefit from improved performance, while valuable personal photos and financial records can be better protected from a drive failure.

High Definition Audio
Delivering significant improvements over previous generation integrated audio and sound cards. 7.1- channel audio is capable of delivering the support and sound quality for up to eight channels at 192 kHz/32- bit quality,while the AC'97 specification can only support six channels at 48 kHz/20-bit. In addition, Intel HD Audio is architected to prevent the occasional glitches or pops that other audio solutions can have by providing dedicated system bandwidth for critical audio functions.
PCI Express x16 Interface
PCI Express x16 graphics delivers up to 4 GB/s per direction for up to 3.5 times more bandwidth than AGP8X. PCI Express x1 I/O offers 500 MB/s concurrently, up to 3.5 times more bandwidth than PCI at 133 MB/s.