SD31P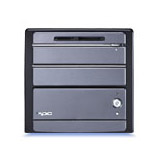 XPC SD31P -- Next Generation Technology
With its support for high-end Intel® dual core and 64-bit processors, and advanced integrated audio/visual components, the XPC SD31P is the ideal platform for business users and gamers looking to build cost-effective high-performance solutions in an ergonomic enclosure one-third the size of a standard desktop PC.
Incorporating a full-spectrum of cutting-edge technology including Intel's 945G chipset, GMA 950 media accelerator, and the Sound Blaster Live! 24-bit, a 7.1 channel EAX high-definition audio solution from Creative Labs, the XPC SD31P delivers advanced features to users looking to combine the benefits of Intel's newest processors with Shuttle's award-winning small form factor technology.

Next Generation Technology
Based on the Intel® 945G + ICH7-R chipset, the XPC SD31P is the first SFF computer optimized to support new Intel 600 and 800 sequence processors delivering innovative features and new benefits for both home and business.
Dual Core(1).--increased multitasking performance.
Extended Memory 64 Technology (EM64T)--support for 64-bit extended operating systems, such as Microsoft® Windows® XP
Professional x64 Edition.
Hyper-Threading Technology(2)--multi-threaded applications.
Execute Disable (XD) technology--increased protection from malicious software.
Enhanced Intel SpeedStep® Technology--reduced power consumption and fan noise.
(1) 800 sequence processors only.
(2) 600 sequence processors only.
Memory Architecture
Support for dual-channel DDR2 memory technology at 667 MHz (up to 10.7 GB/s of peak memory bandwidth) gives greater platform performance and memory flexibility.

Intel® Flex Memory Technology facilitates easier upgrades by allowing different memory sizes to be populated and remain in dual-channel mode.
Intel® Graphics Media Accelerator 950
The Intel GMA 950 graphics core features a number of optimizations tailored to emerging technologies in the multimedia market. Smooth standard and high definition video playback, enhanced modes for widescreen flat panels and high-definition displays, and optimized Microsoft DirectX™ 9.0 3D, enable the XPC SD31P deliver an intense, realistic visual experience without requiring a separate graphics card.
Creative Labs Sound Blaster Live! 24-bit EAX high-definition 7.1 audio processor
The XPC SD31P with the Sound Blaster Live! 24-bit EAX high-definition 7.1 hardware audio processor produces multi-directional sound ideal for home theater environments. Hardware sound processing reduces CPU utilization by up to 300% compared to software codecs.
SATA hot-plug
This model offers ample I/O connectivity, and then some. Features, such as the Clear CMOS button and Wireless LAN perforation, are Shuttle exclusives, not seen in other small form factor computers. Further, the XPC SD31P also includes a hot-plug SATA connector on the back panel to allow future storage upgrades.