SD36G5M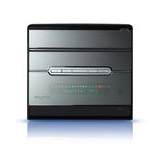 Media Center PC with Viiv Technology
Enjoy the power and versatility of a modern PC, in your living room. Experience the complete home entertainment experience of movies, games, music and online content, with the XPC SD36G5M.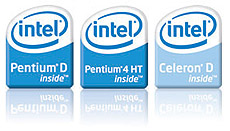 Intel LGA 775 CPUs
The XPC SD36G5M lets you choose the Intel brand CPU that best fits your needs and budget.
Pentium D
Delivers an extra powerful gear when you need it. Accomplish more while running multiple applications, such as editing video while downloading music.
Pentium 4
Advanced performance and multitasking capabilities for today's digital home and digital office applications.
Celeron D
Delivers a balanced level of proven technology and exceptional value for desktop PCs.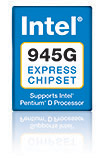 Intel 945G Chipset
The Intel 945G Express Chipset delivers outstanding system performance through high-bandwidth interfaces such as dual-channel DDR2 memory, 1066 MHz system bus, PCI Express x16 graphics port and PCI Express x1 I/O ports, next-generation Serial ATA and Hi-Speed USB 2.0 connectivity.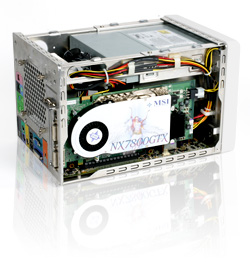 PCI Express interface
The PCI Express architecture enables increased bi-directional bandwidth to the graphics and I/O interfaces. With theoretical bandwidth up to 4 GB/s per direction, the PCI Express x16 graphics port can provide more than three and a half times the graphics bandwidth over previous high-performance discrete graphics solutions.
Designed to support cutting-edge PCI Express graphics, the XPC SD36G5M has been tested compatible with the latest high-performance graphics cards.
Intel® Matrix Storage Technology
The SD36G5M with Intel Matrix Storage Technology provides new levels of protection, performance, and upgradeability for the home or office. Supporting the latest high-speed SATA 3Gb/s interface, SMART hardware monitoring, and NCQ technology, the SD36G5M also offers RAID 0 or 1 so you can take advantage of better protection against loss in the event of hard drive failure or enhanced performance.
Intel® Flex Memory Architecture
To support faster memory, increased graphics requirements, and I/O bandwidth, the Intel 945G Express Chipset incorporates an updated Memory Controller Hub (MCH) backbone architecture. This new design includes wider internal data buses that support dual-channel DDR2 memory technology at 667 MHz (up to 10.7 GB/s of peak memory bandwidth) for greater platform performance and memory flexibility. IntelR Flex Memory Technology facilitates easier upgrades by allowing different memory sizes to be populated and remain in dual-channel mode.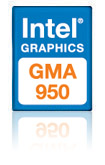 Intel® Graphics Media Accelerator 950
The Intel 945G Express Chipset also features an improved graphics core. Intel GMA 950 enhances the user experience with faster graphics, improved Microsoft DirectX 9.0 3D performance, and better video playback and quality. The increased performance enables smooth standard and high definition video playback. Built-in support of consumer electronic displays allows consumers to plug into native high-definition displays and output to either 720p or 1080i resolutions.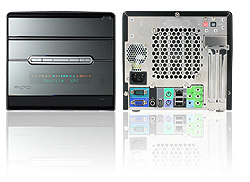 Advanced I/O
As you can see above, this model offers ample I/O connectivity, and then some. Features, such as the Clear CMOS button and Wireless LAN perforation, are Shuttle exclusives, and not seen in other small form factor computers.
The XPC SD36G5M's feature-rich back panel is perfectly complemented by an equally rich front panel. With USB 2.0, FireWire 400, earphones, and microphone built into this sexy front panel. The SD36G5M provides more connections and ease of use over regular ATX forced to sit on the floor and out of reach.

Viiv Technology Ready
Unlock an amazing new world of digital entertainment with a home media center XPC with Viiv technology.
To learn more about Viiv visit