SD37P2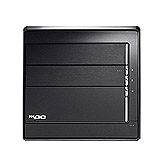 The Performance Leader
Understated style. Uncompromising power. The all new SD37P2 introduces Intel® Core™2 Duo processors, a modern PCI Express architecture that supports ATI CrossFire, and support of 8GB DDR2 memory.

Intel® Core™2 Extreme
the Intel® Core™2 Extreme processor for desktop PCs features the latest arsenal of performance-rich technologies. It was designed to run energy-efficient so you can run red hot. Plus, that added energy efficiency enables systems to run quieter.

Intel® Core™2 Duo
experience revolutionary performance, unbelievable system responsiveness, and energy-efficiency built in - up to 40% faster and over 40% more energy efficient.

Intel 975X Chipset
The Intel® 975X Express Chipset enables Intel's highest performance desktop platforms,with support for the latest Intel® dual-core processors. In addition, the Intel 975X Express Chipset enables key performance capabilities such as support for multiple x8 graphics cards, Intel® Memory Pipeline Technology (Intel® MPT), and 8GB memory addressability to enable 64-bit computing for the future.
PCI Express interface
The PCI Express architecture enables increased bi-directional bandwidth to the graphics and I/O interfaces. With theoretical bandwidth up to 2 GB/s per direction, the PCI Express x8 graphics port can provide the graphics bandwidth over previous high-performance discrete graphics solutions.
Designed to support cutting-edge PCI Express graphics, the XPC SD37P2 has been tested compatible with the latest high-performance graphics cards.
Intel® Memory Pipeline Technology
Enhanced memory pipelining enables a higher utilization of each memory channel, accelerating data transfers between the processor and system memory, increasing system performance.
Intel® Matrix Storage Technology
Provides quicker access to digital photo, video, and business files with RAID 0, 5, and 10, and data protection against a hard drive failure with RAID 1, 5, and 10

CrossFire
SD37P2 features 2 PCI-E X8 slots to support ATI CrossFire technology, when you install 2 ATI crossfire graphic cards. CrossFire boosts image quality along with rendering speed, eliminating the need to crank down screen resolutions to get the high image quality you want. CrossFire ignites with the higher anti-aliasing, anisotropic filtering, shading, and texture settings you desire.
4 DDR2 Memory Slots
The XPC SD37P2 features 4 DDR2 memory slots and supports an incredible 8GB of RAM. Up to 4 times the capacity of previous generation XPCs, the XPC SD37P2 is optimized for future high-memory-demand applications such as 64-bit software, high definition video, and games.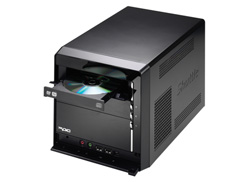 Advanced I/O
The XPC SD37P2 is ready to connect to all your modern digital devices. Cameras, music players, VoIP phones, printers, USB flash drives, and more can all be attached directly thanks to the easy to reach USB 2.0 and FireWire 400 ports at the front of the system.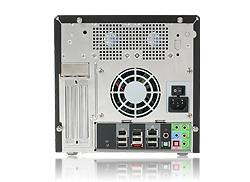 The XPC SD37P2's feature-rich front panel is perfectly complemented by an equally rich back panel. With USB 2.0, FireWire 400, and external SATA (eSATA), the XPC SD37P2 provides more connections and ease of use over regular ATX forced to sit on the floor and out of reach.
eSATA
The external SATA port located at the back I/O provides smart setup and hot-plug function. eSATA allow effortless sharing and transfer of entertainment content and digital media on external devices