SG31G2 V2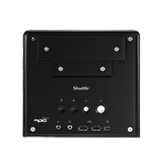 Hi-Def Your Vision
The Shuttle XPC Glamor SG31G2 V2 is designed based on Intel® G31 Express Chipset supporting the 45nm Intel® Core™ 2 multi-core processors. Featuring Intel® Graphics Media Accelerator 3100 with Intel® Clear Video Technology you can now enjoy a richer high-quality viewing experience and with integrated 7.1 channel high definition audio you can enjoy more realistic audio.
The Shuttle XPC Glamor SG31G2 V2 enhances storage transfer through high speed SATA 3Gb/s, and features low noise and ultra cool ICE 2 (Integrated Cooling Engine 2) Technology, keeps your platform cool while on its top performance.

Next Generation Intel® 45nm Processor
The new Intel® 45nm processor brings new microarchitectures with twice the density of Intel® 65nm technology. Packing about double the amount of transistors on the same silicon space, the Intel® 45nm technology boasts improved speeds and reduced leakages for great performance leaps and energy efficiency.

Support the latest Intel® Core™ 2 Multi-core Processors
Intel® Core™ 2 Quad
With four execution cores, the Intel® Core™ 2 Quad processor blows through processor-intensive tasks in demanding multitasking environments and makes the most of highly threaded applications. Pioneer the new world of quad-core and unleash the power of multi threading.
Intel® Core™ 2 Duo
experience revolutionary performance, unbelievable system responsiveness, and energy-efficiency built in - up to 40% faster and over 40% more energy efficient.

7.1 Channel HD Surround Sound Audio
Experience fine cinematic surround sound effects at home, with 8 channels of home theater stereo audio.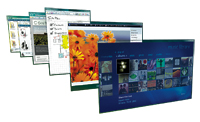 Supports Windows Vista Premium
Breathtaking Windows Aero™ 3D visual interface and a host of groundbreaking new features, Windows® Vista™ Premium promises to deliver a streamlined computing experience designed to fundamentally change how users view, find and organize their digital information.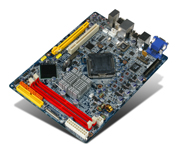 Smart Color Slot Design
Peripherals, connectors and memory modules can be easily recognized with smart color codes providing easier installation.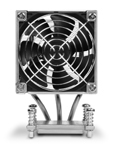 Integrated Cooling Engine 2 (ICE 2)
Like its predecessor Integrated Cooling Engine 2 (ICE 2) uses convection cooling to dissipate heat away from and around the CPU. With all the same basic concept and designs the new improved version ICE 2 includes, copper tubes coated in nickel enhances tube hardness and rust-proof protection are filled with distilled water, effectively channels heat away, providing high efficiency processor and chassis cooling.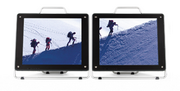 Dual View Technology
Dual View technology offers multiple display support on up to two separate monitors. This improves the capabilities and productivity of the user by allowing them to spread multiple windows over two monitors and view them simultaneously.