SG33G5 PRO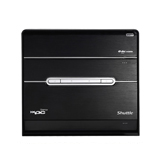 Hi-Def Your Vision
The new style of modern PC, Shuttle SG33G5 Pro based on the Intel® G33 Express Chipset is designed for the upcoming Intel® 45nm Core™ 2 multi-core processors. Featuring Intel® Graphics Media Accelerator 3100 with Intel® Clear Video Technology provides high-quality video playback and sharp image quality enables a richer graphics experience.
Sit back and enjoy a complete entertainment experience with visually stunning HD video delivered through HDMI output and the finest 7.1 channel cinematic surround sound effects delivered by Dolby® Digital Live! and DTS™ Connect functionality.
Featuring fingerprint recognition technology, the SG33G5 Pro provides an added layer of security to ensure your personal documents and information are kept safe. In addition, data sharing is much faster and more convenient than before with e-SATA and innovative USB Speed-Link feature, which easily connects and shares data between 2 PCs.

Next Generation Intel® 45nm Processor
The new Intel® 45nm processor brings new microarchitectures with twice the density of Intel® 65nm technology. Packing about double the amount of transistors on the same silicon space, the Intel® 45nm technology boasts improved speeds and reduced leakages for great performance leaps and energy efficiency.

Intel® LGA775 Processor Support
Intel® Core™ 2 Extreme
the Intel® Core™ 2 Extreme quad-core processor for desktop PCs features the latest arsenal of performance-rich technologies. It was designed to run energy-efficient so you can run red hot. Plus, that added energy efficiency enables systems to run quieter.

Intel® Core™ 2 Quad
With four execution cores, the Intel® Core™ 2 Quad processor blows through processor-intensive tasks in demanding multitasking environments and makes the most of highly threaded applications. Pioneer the new world of quad-core and unleash the power of multi threading.
Intel® Core™ 2 Duo
experience revolutionary performance, unbelievable system responsiveness, and energy-efficiency built in - up to 40% faster and over 40% more energy efficient.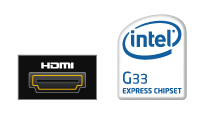 Intel® G33 Express Chipset with HDMI (HDCP)
Experience true-to-life video quality from the latest Intel G33 Express chipset with HDMI (HDCP). Featuring Intel® Graphics Media Accelerator 3100 with Intel® Clear Video Technology delivers enhanced high-definition video playback and sharper images.

Finest Cinematic Surround Sound Experience
What would a home theater be without booming, immersive 7.1 channel surround sound Experience the state-of-the-art sound quality provided by Dolby® Digital Live and DTS™ Connect functionality.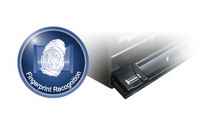 Advanced Security for Your Digital Information
Add a layer of security protection through the integrated biometric fingerprint reader, you can keep your digital identity and data more secure, no more worries for memorizing multiple passwords for different usage.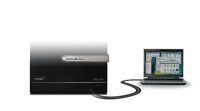 Innovative USB Speed-Link Technology
File sharing among 2 PCs has never been easier with the innovative USB Speed-Link technology, simply connects both systems through a USB cable without having the hassle of driver installation or worry about insufficient space of a DVD disc.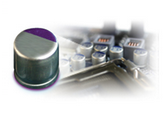 All Solid Capacitors Motherboard Design
All solid capacitors design is the new trend for Shuttle's motherboard and guaranteed to deliver maximum stability, reliability and longer system lifetime for the ultimate PC gaming and entertainment experience.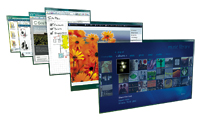 Supports Windows Vista Premium
Breathtaking Windows Aero™ 3D visual interface and a host of groundbreaking new features, Windows® Vista™ Premium promises to deliver a streamlined computing experience designed to fundamentally change how users view, find and organize their digital information.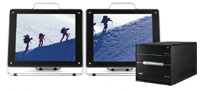 Dual View Technology
Dual View technology offers multiple display support on up to two separate monitors. This improves the capabilities and productivity of the user by allowing them to spread multiple windows over two monitors and view them simultaneously.