SG33G5M DELUXE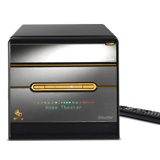 D'VO – True-to-life entertainment
At the heart of the Shuttle D'VO series is the SG33G5M Deluxe, an entire home entertainment system in one compact chassis. Sit back and enjoy a complete entertainment experience with visually stunning HD video delivered through HDMI (HDCP) output and the finest cinematic surround sound effects delivered by Dolby® Digital Live! and DTS™ Connect functionality.
Featuring fingerprint recognition technology, the SG33G5M Deluxe provides an added layer of security to ensure your personal documents and information are kept safe. In addition, data sharing is much faster and more convenient than before with e-SATA and innovative USB Speed-Link feature, which easily connects and shares data between 2 PCs.
Enjoy a life without cords with wireless connectivity provided by WiFi 802.11b+g or sync your images taken by mobile phone thru integrated Bluetooth. Navigate and access your entire digital multimedia contents easily with a remote controller, without the fuss of typing and clicking the keyboard and mouse.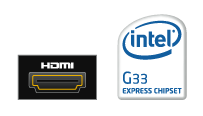 Intel® G33 Express Chipset with HDMI (HDCP)
Experience true-to-life video quality from the latest Intel G33 Express chipset with HDMI (HDCP). Featuring Intel® Graphics Media Accelerator 3100 with Intel® Clear Video Technology delivers enhanced high-definition video playback and sharper images.

Finest Cinematic Surround Sound Experience
What would a home theater be without booming, immersive 7.1 channel surround sound Experience the state-of-the-art sound quality provided by Dolby® Digital Live and DTS™ Connect functionality.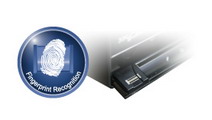 Advanced Security for Your Digital Information
Add a layer of security protection through the integrated biometric fingerprint reader, you can keep your digital identity and data more secure, no more worries for memorizing multiple passwords for different usage.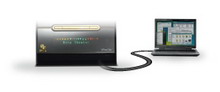 Innovative USB Speed-Link Technology
File sharing among 2 PCs has never been easier with the innovative USB Speed-Link technology, simply connects both systems through a USB cable without having the hassle of driver installation or worry about insufficient space of a DVD disc.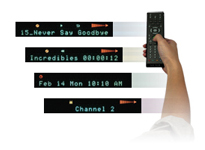 Home Theater Ready
Navigate and access your entire digital multimedia contents easily with a remote controller, without the fuss of typing and clicking the keyboard and mouse. The unique Versatile Front-panel Display (VFD) shows currently playing multimedia content.

Seamless Connectivity
Enjoy the life of freedom without messy cords and cables, featuring WiFi 802.11b+g and Bluetooth functionality provide you the ease of connectivity to the Internet and peripherals.
All Solid Capacitors Motherboard Design
All solid capacitors design is the new trend for Shuttle's motherboard and guaranteed to deliver maximum stability, reliability and longer system lifetime for the ultimate PC gaming and entertainment experience.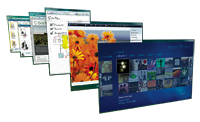 Supports Windows Vista Premium
Breathtaking Windows Aero™ 3D visual interface and a host of groundbreaking new features, Windows® Vista™ Premium promises to deliver a streamlined computing experience designed to fundamentally change how users view, find and organize their digital information.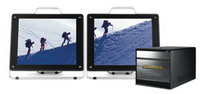 Dual View Technology
Dual View technology offers multiple display support on up to two separate monitors. This improves the capabilities and productivity of the user by allowing them to spread multiple windows over two monitors and view them simultaneously.