SG41J1 PLUS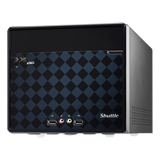 Power Up Your Everyday Computing
The Shuttle SG41J1 Plus is housed in the new "J1" chassis, designed for everyday home and office use. Adding support for DDR3 memory to SG41J1 Plus, it is based on the Intel® G41 chipset, capable of processing power up to Intel® Core™2 Quad processor and ready for everyday entertainment with on-board Intel® X4500 graphics. It even includes a customizable front, for virtually endless design and décor possibilities for home users and business users alike.

Support Intel® 45nm Processor
The Intel® 45nm processor brings new microarchitectures with twice the density of Intel® 65nm technology. Packing about double the amount of transistors on the same silicon space, the Intel® 45nm technology boasts improved speeds and reduced leakages for great performance leaps and energy efficiency.

Support the Intel® Core™ 2 Multi-core Processors
Intel® Core™ 2 Quad
With four execution cores, the Intel® Core™ 2 Quad processor blows through processor-intensive tasks in demanding multitasking environments and makes the most of highly threaded applications. Pioneer the new world of quad-core and unleash the power of multi threading.

Intel® Core™ 2 Duo
Experience revolutionary performance, unbelievable system responsiveness, and energy-efficiency built in - up to 40% faster and over 40% more energy efficient.

Intel® G41 Express Chipset
The Intel® G41 Express Chipset, when combined with the Intel® Core™2 processor family, delivers new technologies and innovative capabilities for digital home consumers. With major advancements in video, graphics, responsiveness and scalability, the Intel® G41 Express Chipset enables scalability and performance for everyday computing.

Windows 7 Series Support
Shuttle SG41J1 Plus supports the latest Windows 7 series operation system and brings you the top features of the new generation technology to simplify your everyday tasks and work the way you want.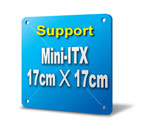 Mini-ITX Motherboard Support
Shuttle expands the capabilities of its chassis, adding support for Mini-ITX motherboards(170 x 170mm or 6.7 x 6.7 inches). Now, the Shuttle chassis can go beyond the Shuttle motherboard. You can easily upgrade the motherboard to your desire.
Roomy Interior
With the space-efficient design, the new chassis is as roomy as it gets, maximizing the headroom for enthusiasts and power users to upgrade to the latest graphics cards.
Supports Socket-775 CPU and up to 8 GB DDR3
You can choose from a wide range of Socket 775 Intel processors starting from Celeron up to Quad Core with a maximum TDP wattage of 95W. The system memory can also be installed according to your needs up to a total size of 8GB DDR3-1066.
Dual View Technology with DVI and D-Sub
Dual View technology offers multiple display support on up to two separate monitors. This improves the capabilities and productivity of the user by allowing them to spread multiple windows over two monitors and view them simultaneously.
Supports dual-slot graphics cards
The Shuttle XPC Barebone SG41J4 supports dual-slot (double-width) PCI Express graphics cards without additional power connectors. Please note, that the integrated graphics will be disabled, while using a discrete graphics card.