SG41J4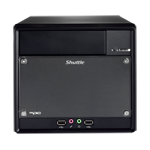 Economic entry-level Mini-Barebone
The XPC Barebones SG41J4 is the second generation of the SG41 series. The new J4 front panel allows you to design your own custom panel with a removable acrylic plate. SG41J4 is based on Intel® G41 Express chipset, which delivers new technologies and innovative capabilities for digital home consumers. It supports by 8GB of dual channel DDR3 memory, modern Celeron and Core 2 processors with up to four cores. SG41J4 provides you a supreme home and office system to suit just your needs.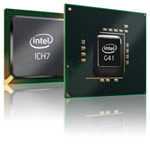 Intel® G41 Express Chipset
The Intel® G41 Express Chipset, when combined with the Intel® Core™2 processor family, delivers new technologies and innovative capabilities. With major advancements in video, graphics, responsiveness and scalability, the Intel® G41 Express Chipset enables scalability and performance for everyday computing.

Support the Intel® Core™ 2 Multi-core Processors
Intel® Core™ 2 Quad
With four execution cores, the Intel® Core™ 2 Quad processor blows through processor-intensive tasks in demanding multitasking environments and specializes to handle massive compute visualization workloads. Pioneer the new world of quad-core and unleash the power of multi threading.

Intel® Core™ 2 Duo
Experience revolutionary performance, unbelievable system responsiveness, and energy-efficiency built in - up to 40% faster and over 40% more energy efficient.

Mini-ITX Mainboard Support
Shuttle expands the capabilities of its chassis, adding support for Mini-ITX mainboards (17x17 cm or 6.7x6.7 inches). Shuttle J series chassis go beyond the shuttle mainboard, so you can easily upgrade the mainboard to your desire without any modifications to the chassis.
Dual View Technology with DVI and D-Sub
Dual View technology offers multiple display support on up to two separate monitors. This improves the capabilities and productivity of the user by allowing them to spread multiple windows over two monitors and view them simultaneously.
Supports dual-slot graphics cards
The Shuttle XPC Barebone SG41J4 supports dual-slot (double-width) PCI Express graphics cards without additional power connectors. Please note, that the integrated graphics will be disabled, while using a discrete graphics card.
Customizable Front Panel
SG41J4 includes a customizable front, for virtually endless design and décor possibilities for home and business users. You can decide the design of the panel to your own wishes. The SG41J4 comes with a removable acrylic cover to make this possible. Any design that you want can be placed behind it. Whether a company logo, administrative data or your favorite photo – the options are virtually unlimited.