SH55J2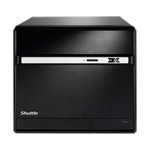 The Ideal Mini-PC for Home Entertainment
The revolutionary Intel Core™ i7/i5/i3 processors based on Socket 1156 with high computing power and relatively low power consumption are outstandingly suitable for Mini-PCs. With the XPC barebone SH55J2, Shuttle's product range now includes a model for this processor platform. Despite its compact dimensions it still manages to find space for a PCI-Express slot, DDR3 memory, HDMI interface, Gigabit LAN, 8-channel audio with S/PDIF out(optional) and an array of interfaces. With an 80 Plus certified 300W power supply and effective heatpipe cooling system, the SH55J2 demonstrates industry-leading thermals and rock-solid stability.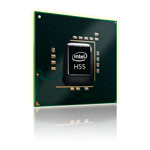 Intel H55 Express Chipset
The design of the Intel new Core i3/i5/i7 processors will eliminate the need for the traditional Northbridge found on previous generation of mainboards. Thus, the Shuttle SH55J2 sports Intel's H55 Express Platform Controller Hub(PCH) from the Intel 5 series "Ibexpeak" family, which will integrate the hard drive controller, network controllers, monitor physical interfaces, PCI controller and other input/output functionalities.
Supports Dual-Slot Graphics Cards
With the space-efficient design, the SH55J2 is as roomy as it gets, maximizing the headroom for enthusiasts and power users to upgrade to the latest graphics cards. Despite the small housing, the SH55J2 is capable of running dual-slot(double-width) PCI Express graphics cards.
Built-in Intel HD Graphics Engine*
The Intel Core i3/i5/i7 processors integrate the Intel HD Graphics engine which supports full 1080p high-definition video playback, including Bluray disc movies. It features Intel Clear Video Technology and the optimized 3D graphics engine supports DirectX 10, and delivers the performance and compatibility you need for entertaining.

*Note: Please choose processors with Intel HD Graphics technology to utilize on-board graphics function.

eSATA-USB Combo Port
Shuttle SH55J2 incorporates an eSATA-USB combo port into its front panel. The combo port combines the convenience of USB power while supplies the high speed of eSATA. There is no additional power source required when connecting the eSATA-USB combo device and thus helps to save space and maximize flexibility.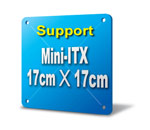 Mini-ITX Motherboard Support
Shuttle expands the capabilities of its chassis, adding support for Mini-ITX motherboards(170 x 170mm or 6.7 x 6.7 inches). Now, the Shuttle chassis can go beyond the Shuttle motherboard. You can easily upgrade the motherboard to your desire.

Minimum of 80% Efficiency Guaranteed
The 80 PLUS ® performance specification requires power supplies in computers and servers to be 80% or greater energy efficient. This makes an 80 PLUS certified power supply up to 33% more efficient than current power supplies. 300W high efficiency & energy saving power supply of SH55J2 is guaranteed by 80 PLUS BRONZE certification.