SH610R4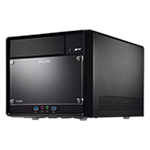 The Versatile PC Supports Brand New 13th Gen Intel® Processors
A 13-liter compact box based on the newest Intel® H610 chipset, Shuttle SH610R4 is a powerful and robust desktop PC with the LGA1700 design that supports 13th/12th Generation Intel® Core processor with Intel® Xe graphic architecture and dual-channel DDR4-3200 memory to reliable process multi-tasks and drive 4K/60 contents simultaneously in the most efficient way possible. Expansion-friendly is one of the critical features of the SH610R4, the built-in PCI-E Gen5 x16 allows upgrading graphics potential via a discrete graphics card to improve the visual output or adding video capture cards to expand into media-related applications. SH610R4 can support the installation of two 3.5-inch HDDs, one ODD bay and an M.2 SSD, users can configure them according to the storage required by the actual application. Sufficient and easily accessible connectivity is another reason to make SH610R4 the ideal choice for business, SH610R4 provides a wide range of I/O ports including a total of eight USB 3.2 and USB 2.0, a Gigabit LAN, HDIM 2.0b, dual DisplayPort and VGA interfaces. This is perfect for visual computing, content creation, control room PC, network security system, etc.
Intel® 13th Gen processor
Based on the H610 chipset, SH610R4 is designed for 13th Gen (Raptor Lake) and 12th Gen (Alder Lake) Intel® processors in the LGA1700 socket features the new hybrid processor design of Performance-cores and Efficient-cores, and supports up to 64GB (32GBx2) of DDR4-3200 memory, providing optimal computing capacity for multitasking. According to Intel, the 13th generation core processor performance improvement up to 11% in single-core and 34% in multi-core workloads. In addition, with Intel® UHD Graphics 700 series integrated, SH610R4 comes with outstanding performance to boost image processing in streaming, video recording and content creation, as well as is the potential for multi-platform AI deployment.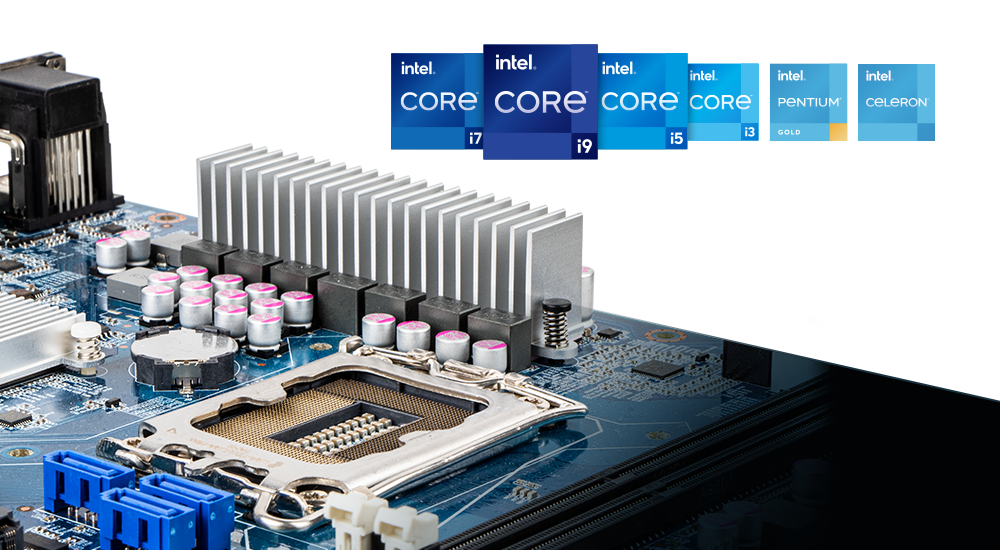 Triple-Display Productivity
Built-in one HDMI 2.0, two DisplayPort, and VGA outputs, the SH610R4 supports triple independent display, allowing the extent of the workspace across multiple monitors for a more comfortable productivity experience.
*VGA port does not support 4K or higher resolutions due to VGA specification limit.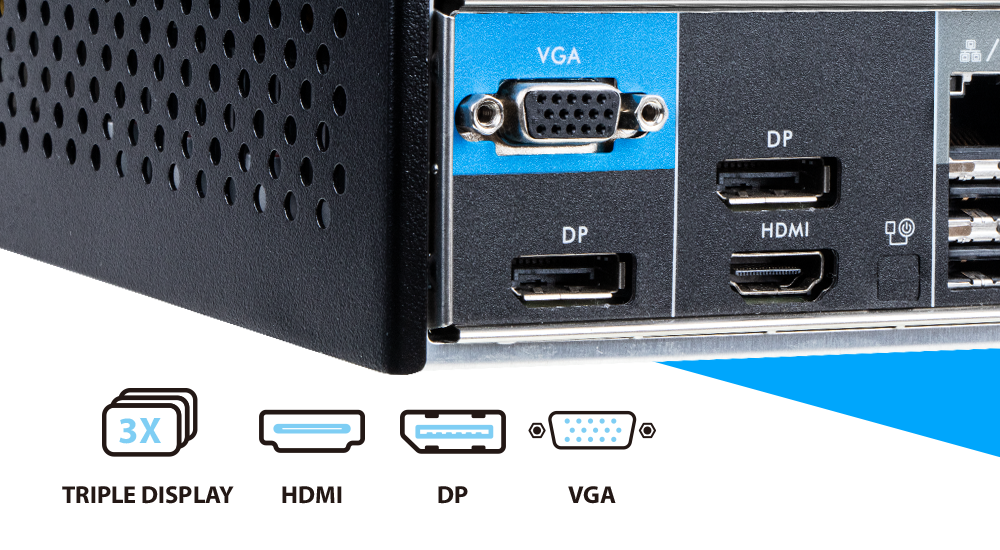 Strong Expansion Capacity with M.2
With a native M.2 2280/2260/2242 Type M slot and an M.2 2230 Type E slot, SH610R4 offers considerably faster storage performance and expansion capacity for M.2 SSD and Wi-Fi modules.
*M.2 2280 key M supports SATA 3.0 and PCIe 4.0 x 4 storage interfaces.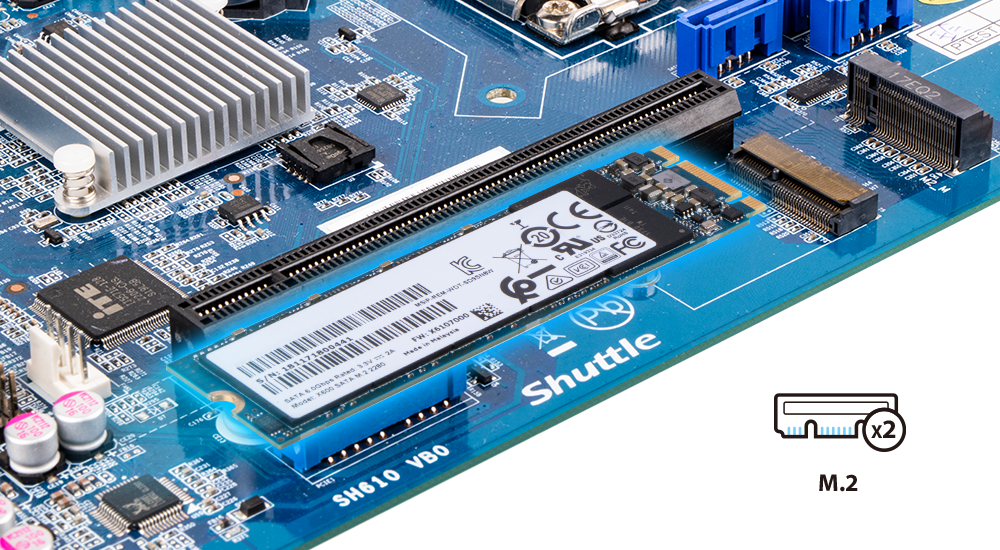 PCI-E x16 Gen 5
SH610R4 includes a PCI-Ex 16 5.0 slot for next-generation add-on cards. PCI-E 5.0 doubles the bandwidth and frequency of PCI-E 4.0. The higher bandwidth may benefit the add-on card for higher throughput and enables more flexibility, for it is fully backward compatible and available bandwidth ready for future devices.
* GFX card dimension limit : 273 mm x 98 mm x 38 mm

Customization Front Panel
The front chassis of the SH610R4 is easily customized by simply changing the acrylic front plate. Add any design, such as a photo, graphic, or your company name or branding on it.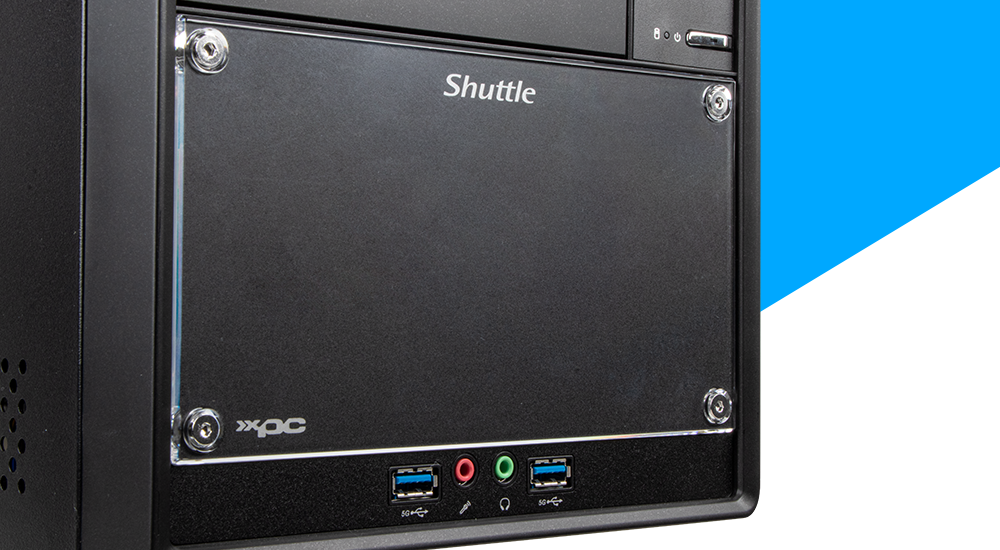 Integrated Cooling Engine (I.C.E)
SH610R4 comes with a built-in 80 PLUS 300W power supply and Shuttle's I.C.E (Integrated Cooling Engine) technology makes this model energy-efficient and ready for quiet, long-term operation. I.C.E. heat-pipe module made by copper material, when the processor emits its waste heat to the copper element of the heat-pipe cooling element, which causes the tubes to heat up and the heat to be transported towards the cooling fins. The housing fan pushes air through the fins, thus cooling them down.

Operating System Support
- Windows 11 64bit
- Windows 10 64bit
- Linux