SH67H3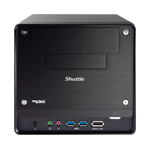 Your Best Choice for Digital Home Entertainment
Shuttle is proud to present you the new XPC, SH67H3. The system is powered by the latest Intel® h67 Express chipset featuring all 2nd generation Intel® Core™ i7 / i5 / i3 processors to enhance better performance while being energy-saving. The chassis continues the essence within the XPC family, with brushed on details and cutting-edge black aluminum design that copes with the XPC collection. The SH67H3 accommodates DDR3、USB3.0 and SATA3 6Gbps with expansion slots of two 3.5" drives and one 5.25 driver inside. Additional graphics performance is provided by the PCI-Ex16 and Mini-PCI-E ports which can be used for various applications such as WLAN module. Enjoy the high-definition playback of HD content with both HDMI and DVI connections. SH67H3 is designed to maximize your home entertainment experience. SH67H3 consists Integrated Cooling Engine 2(I.C.E. 2) heat pipe technology to prevent heat damage and deliver some of the quietest computers in the world. This technology traps CPU heat and through passive convection, passes that heat to conductors to the rear. SH67H3 brings you the most stable and most optimal useful life.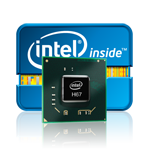 Intel® H67 Express Chipset
Features to support all 2nd generation Intel Core i3/i5 /i7 processors with LGA1155 to enhance the performance of the built-in GPU. Intel®H67 includes Displayport、HDMI1.4、dual monitors support, and DVI to provide a smart and stunning visual experience. The feature of SATA 3 6Gbps offers the latest generation of storage interface for ideal data access. With the support of Intel®Rapid Storage Technology speeds up data access in digital media and data files.
Supporting Dual-Slot Graphics Cards
With the space-efficient design, the SH67H3 is as roomy as it gets. Not only it's space-saving but also it maximizes the need for high-end users and markets. The designs for dual-slot graphic cards provide the users a faster and smarter performance.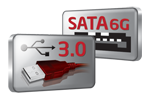 Intel® Rapid Storage Technology
Provides the high-capacity and high performance with RAID 0, 5 and 10 and also the most effective data protection to recover a hard drive failure with RAID 1, 5 and 10. The two sets of eSATA and two sets of SATA2 enable the full SATA interface speed outside the chassis, up to 3 Gb/s. In addition, SH67H3 maintain a high-speed storage interface with build-in four USB 3.0, seven USB 2.0 and SATA3 6Gpbs for optimal data access.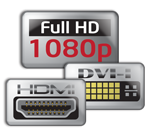 High Definition Multimedia Interface
Provides HDMI, DVI-I and Dual Independent Display with full 1080p support to deliver the stunning full HD and 3D graphics for high-end users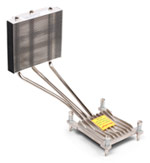 Integrated Cooling Engine 2(I.C.E.2) Heat Pipe Technology
The technology allows heat from the CPU (the system's hottest component) transfers into a heatsink. The heat travels up a series of pipes and into an array of radiator fins screwed into the back of the chassis. A single, whisper-quiet fan mounted just behind this blows air through the fins, thus carrying the heat outside and away from the system. The SH67H3 XPC uses this patented cooling technology to provide the most stable and most optimal useful life.

80 PLUS BRONZE Certification
The 80 PLUS ® performance specification requires power supplies in computers and servers to be 80% or greater energy efficient. This makes an 80 PLUS certified power supply up to 33% more efficient than current power supplies. 300W high efficiency & energy saving power supply of SH67H3 is guaranteed by 80 PLUS BRONZE certification.