SH87R6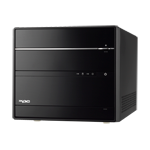 A New Shocking Experience for Entertainment
The Shuttle SH87R6 is official debut with new R6 chassis design. Equipped with the latest Intel® H87 express chipset supports the Intel® Haswell processor, the latest fourth-generation Core™3/i5/i7 processor, integrating new Intel® HD Graphics core (Note), support 7.1 channel audio output, designed for high-definition video entertainment. For expansion, it features with one PCI-E x16 and one PCI-E x1 slot, Mini-PCIe slot, multiple USB 2.0 and USB 3.0 ports, SATA 6Gbps interface and supports expansion slots of two 3.5"drives and one 5.25" drive. The SH87R6 is equipped with Shuttle exclusive I.C.E.2 heat pipe technology and a 300W with 80 Plus Bronze certified power supply that features high stability for long-term operation and energy saving.
*Processor integrated graphic core performance with different models, and its performance may also different.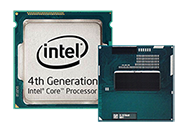 Intel® Haswell 22nm Processors
The next-generation Intel Haswell processor, using 22nm process, built-in memory controller that supports dual-channel DDR3 1600 MHz DIMM with maximum capacity up to 32 GB; support PCI-Express x16 Gen.3.0 and integrate new Intel® HD Graphics core compatible with DirectX 11.1 instructions that is significantly improved CPU or GPU performance.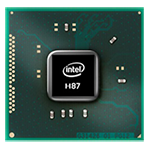 Intel® H87 Express Chipset
The SH87R6 is equipped with the new LGA1150 socket* supporting the Intel® Haswell processor, the latest fourth-generation Core™ i3/i5/i7 processor, supporting Gigabit LAN and SATA 6Gbps and USB3.0 high-speed storage interface, providing the best data transfer efficiency.
*The LGA1150 socket is not compatible with the pin-out (eg LGA1155) of Sandy Bridge and Ivy Bridge processors.
The New R6 Chassis Design
With the new R6 chassis design, the SH87R6 come in brushed-finish (hair-line finish) black cases. The front panel provides USB2.0 and USB 3.0 ports, 3.5mm audio/microphone input.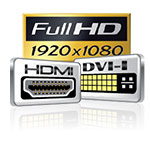 HDMI+DVI-I Video Output
The HDMI and DVI-I output interfaces, with the fourth-generation Core™i3 / i5/ i7 processor, built-in Intel® HD Graphics core, provide on rear panels support two independent displays and built-in 7.1-channel audio, offering users 1080P / Full-HD high-definition video and entertainment enjoyment.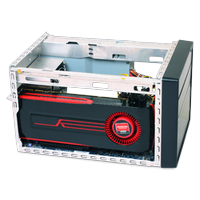 Support Dual Slot Graphic Card
Although the compact housing design, the SH87R6 is capable of running dual-slot graphic cards. Also provided are one PCI-E x16 and one PCI-E x1 slot in which a single -slot graphics card and an expansion card can both be added, or one dual-slot high-end graphics card can be added for customized 3D graphics performance or other expansion functions.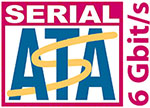 SATA 6Gb/s Storage Interface
The Intel® H87 chipsets fully support the SATA 6Gbps high-speed storage interface. The SH87R6 is equipped with four SATA 6Gbps slots, supporting Intel® Rapid Storage Technology, and RAID 0 / 1/5 disk array operation mode, data access rates can be accelerated or data can be protected when the hard drive fails.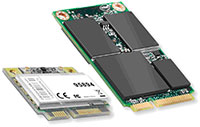 Support 2x Mini Card Slots
Shuttle SH87R6 features two Mini-PCIe slots. One is a half-size slot supporting a WiFi card. In addition, there is another full-size slot supporting mSATA SSD card to provide more flexible storage options.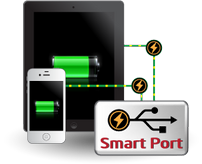 Quick Charge USB Port
The Shuttle Smart USB Port is a USB port which allows fast power charging when a smart phone or tablet PC plugin is detected. It is designed to feed power up to 5V/2A (varies with different smart devices) no matter when the system power is on or off.
*2A only available for Window XP and Window 7 O.S. The normal charge 500mA applies to other mobile devices and Linux O.S.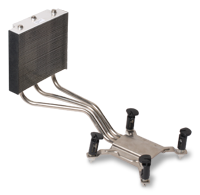 Integrated Cooling Engine Technology (I.C.E.)
Allowing XPC to remain under a stable, cool, concise and silent condition, the Shuttle I.C.E heat pipe Technology uses convention cooling to dissipate heat away from and around the CPU. With all the same basic concepts and designs, the I.C.E. copper tubes coated in nickel enhances tube hardness and rust-proof protection are filled with distilled water, effectively channels heat away, providing high efficiency processor and chassis cooling.

80 PLUS BRONZE Certified 300W Power Supply
Shuttle SH87R6 is equipped with a 300W power supply of guaranteed by 80 PLUS BRONZE certification that features high efficiency and energy saving. In addition, the power supply uses a 50mm cooling fan providing the same airflow, but spins slower than previous 40mm models to make the system run even more quietly.